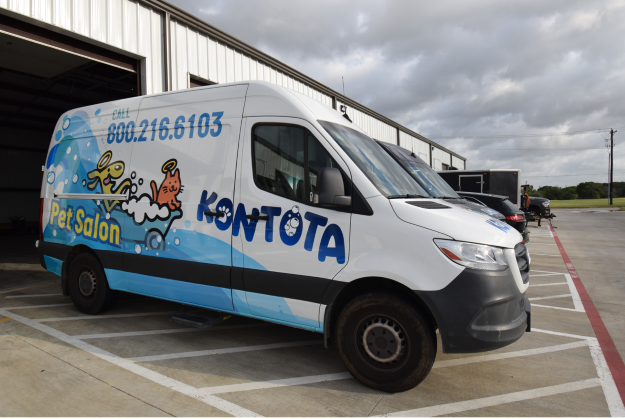 Mobile Dog Grooming Plano TX
Are you in need of a groomer that you can trust with your pet? You have come to the right place! We can't wait to show you why Kontota is the number one groomer in your area.
Setting the Record for 5-Star Excellence in the Plano TX
Experience the utmost convenience and personalized care for your pets with our top-notch mobile grooming services in Plano TX, ensuring a stress-free and pampered grooming experience at your doorstep.
Elevate your pet's grooming routine in Plano with our skilled mobile groomers, providing expert services that prioritize your furry friend's comfort and well-being.
Ready to book an appointment?
Are you ready to see your dog happily emerging from the Kontota grooming van? We want to provide great service and build a relationship with you and your pup. Don't hesitate to book an appointment.
Mobile Grooming in Plano TX
Why would anybody want to drive their dog to a salon, have their dog put in a cage, and then must come back to pick them up when there are far better alternatives?  Our mobile groomers will drive to your house and complete the entire groom in their mobile grooming van. Our grooming vans contain all the equipment for a full-service haircut and bath. Experience the joy of having a mobile groomer come to your house!  It is far more convenient and comfortable for your pet. Traditional salon settings are stressful and noisy. They typically contain cages and cage-drying. Our vans do not incorporate any cages nor fear inducing processes. Our vans are a safe and fun environment for each pet.
Don't you want a groomer who will always prioritize safety?  Isn't it great that our groomers will put your dog's safety first? We are here for you and your pup. We discuss safety daily with our groomers to ensure that they have safety in the forefront of their minds. All our policies emphasize safety more than anything else. Preventing incidents is our focus.
The equipment in our mobile grooming vans is safe and highly efficient. Mobile grooming vans contain all the necessary items that are in a traditional salon. There is a grooming table, a workstation, a water heater, a heater, an air conditioning, vacuums and dryers. Additionally, there is appropriate temperature control and 60 gallons of fresh water to ensure a clean bath for each dog.
Isn't it wonderful to know that you can reach us seven days a week? Our customer service department is ready to handle your inquiries any day of the week. Additionally, we have an online booking portal where you can reach us at any hour. Each dog will receive a customized pet portal that will portray their unique information. You will receive a link to the pet portal when you book an appointment with us.
Denton; Corinth; Highland Village; Lake Dallas; Hickory Creek; Shady Shores; Lantana; Lewisville; Flower Mound; Coppell; Hebron; The Colony; Carrollton
How ready is your dog for a mobile grooming appointment?
Our state-of-the-art mobile grooming van is equipped with the latest tools and facilities, providing a clean and safe space for your pet's grooming needs. From luxurious baths and stylish haircuts to nail trims and ear cleaning, we offer a comprehensive range of services to keep your dog looking and feeling their best.