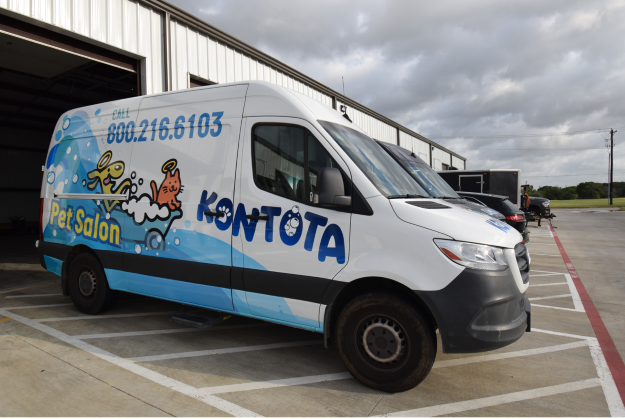 Mobile Dog Grooming Pilot Point TX
Looking for mobile dog grooming in Pilot Point TX?  We recognize that your beloved pet is an integral member of your family, and ensuring their joy and ease during the grooming experience is our foremost priority at Kontota. Navigating the search for the right groomer can be a challenge, but we simplify the process here, offering a seamless solution tailored to you.
Setting the Record for 5-Star Excellence in Pilot Point TX
Discover the epitome of mobile grooming excellence in Pilot Point, TX, where our dedicated team stands as the unrivaled top groomer in the area.
Our specialized services bring unparalleled convenience to Pilot Point residents, ensuring that your pets receive the highest standard of care in the comfort of your own neighborhood. Trust us as the premier choice for mobile grooming, where our expertise and commitment set us apart as the top-notch grooming service in Pilot Point.
Mobile Grooming in Pilot Point TX
Opting for mobile grooming offers a more indulgent alternative to the traditional brick-and-mortar grooming experience. Our mobile groomers arrive at your doorstep in fully equipped grooming vans, mirroring the amenities found in traditional salons. The absence of cages and a quieter environment contribute to a more emotionally healthy grooming experience, tailored for the well-being of your canine companion..
At Kontota, safety is not just a priority; it's an inherent part of our grooming ethos. Discussed during employee orientation and underscored in daily safety meetings, our unwavering commitment to safety ensures our customers feel confident entrusting us with their cherished fur babies, fostering a secure and reliable grooming experience.
The equipment within our mobile grooming vans is meticulously designed for both comfort and health, ensuring an efficient and pleasant grooming experience. Featuring amenities such as fresh water, air conditioning, heat, a water heater, vacuum, dryers, and more, our vans represent a mobile oasis of comfort. Feel free to inquire about a tour of the van, allowing you to witness firsthand the care and innovation we have in store for your dog.
At Kontota, exemplary customer service is our promise. Recognizing the urgency of quick responses, we remain open seven days a week to address your phone calls promptly. Additionally, our online pet portal is accessible at any time, offering a user-friendly platform for customers to effortlessly manage their appointments and stay informed.
Denton; Corinth; Highland Village; Lake Dallas; Hickory Creek; Shady Shores; Lantana; Lewisville; Flower Mound; Coppell; Hebron; The Colony; Carrollton
Is your dog ready for the grooming appointment of a lifetime?
Give your furry friend the VIP treatment they deserve! Book your exclusive mobile grooming appointment now and experience the top-notch care that sets us apart. Don't miss out on the convenience and expertise – secure your slot today and let us bring the grooming salon to your doorstep!