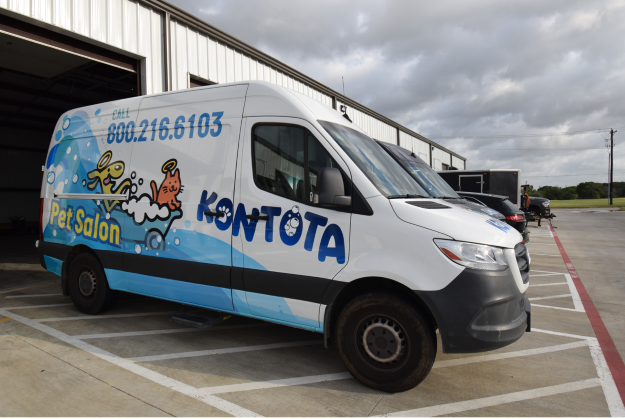 Mobile Dog Grooming Corinth TX
Are you looking for mobile dog grooming in Highland Village TX that you can count on? Kontota Groomers are here for you! We are so excited to show you how we can help groom your dog and give you back your time.
Setting the Record for 5-Star Excellence in the Corinth TX
Need some mobile groomers who are reliable and love animals? Kontota is here for you.
Our mobile groomers are the best in the country.  They are compassionate and care about your pet.  We can't wait to serve you!
Is your pup ready for a salon quality groom?
Is your pup ready for a salon-quality groom? Book today, and we can't wait to provide you with our top-notch service!
Mobile Grooming in Corinth TX
Mobile pet grooming stands out as a superior service compared to traditional salons. Kontota believes in the comfort and safety of dogs, providing a cage-free, noise-free environment. The handheld blow-drying process, along with happy hoodies to protect sensitive ears, ensures a personalized and comfortable grooming experience for each dog in our care.
Safety is our paramount concern. Groomers undergo extensive training in injury prevention and dog safety, emphasizing safe driving and equipment use. Our commitment to maintaining top-notch equipment ensures the safety of both animals and humans in the van.
Equipped with all necessities, our vans boast fresh water, air conditioning, heat, and more. Partnering with industry leaders for over 30 years, we're proud to provide the highest-level grooming environment for every customer.
Our commitment goes beyond the grooming table. Reach us seven days a week via phone, and benefit from our 24/7 online booking services and a unique customer portal tailored to each dog.
Denton; Corinth; Highland Village; Lake Dallas; Hickory Creek; Shady Shores; Lantana; Lewisville; Flower Mound; Coppell; Hebron; The Colony; Carrollton
Are you ready to improve your dogs health and happiness?
Eager to improve your dog's health and happiness? We sure are! Book an appointment today and witness the Kontota grooming experience – satisfaction guaranteed.