Mobile Dog Grooming in Houston, TX
Kontota provides quick and convenient mobile pet grooming services so your pet spends less time at the groomer's and more time with you!
Setting the Record for 5-Star Excellence in the USA
Are you searching for the best dog groomer in Houston? As a pet parent, you want the best experience for your fur babies.
If you are tired of the hassle of taking your dog to a traditional salon, then mobile dog grooming in Houston may be for you! Dropping off and picking your dog up from a brick-and-mortar salon can waste a lot of your precious time, that's why mobile grooming in Houston has gained a lot of popularity in recent years.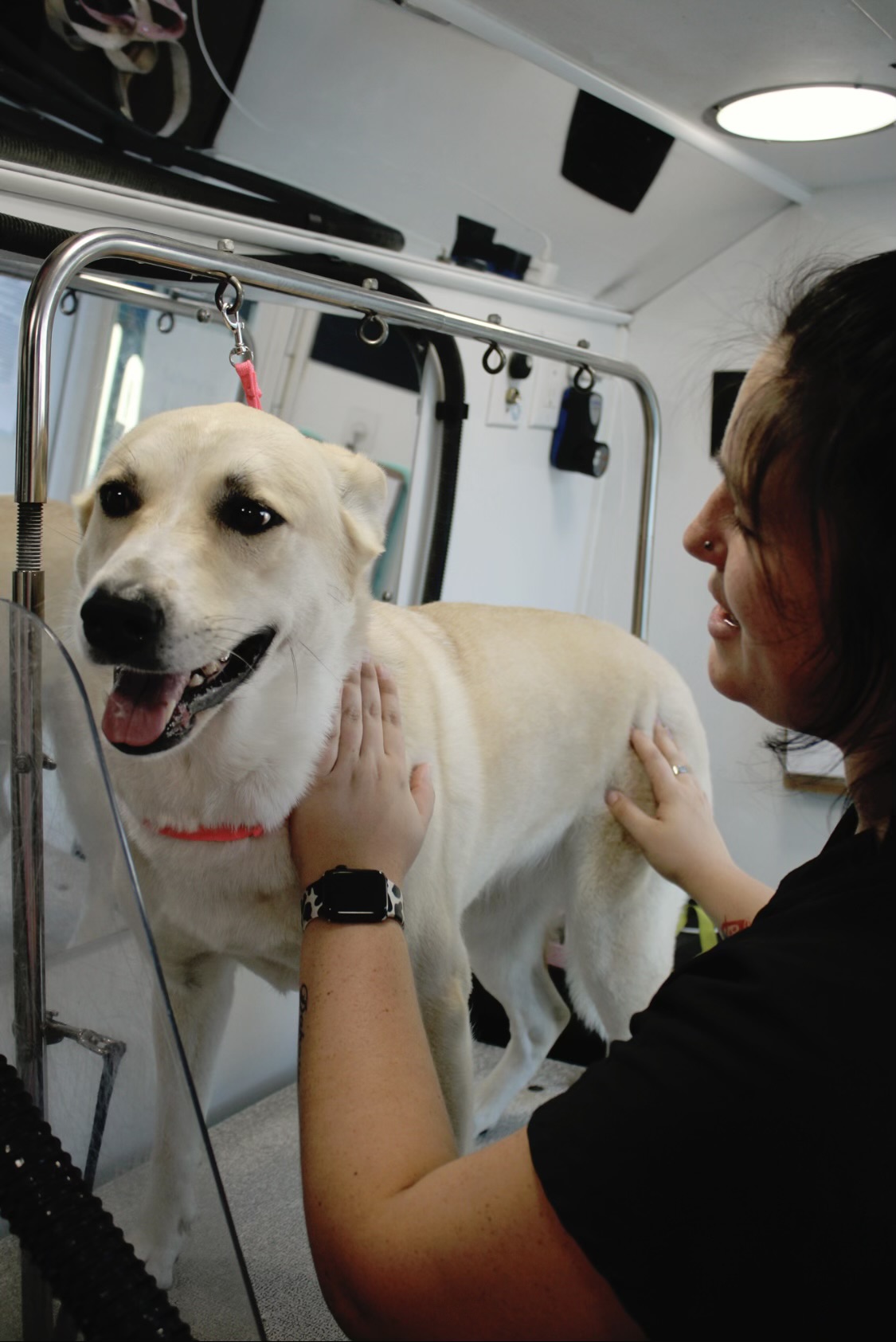 Mobile Grooming In Houston, TX
Mobile grooming is a more convenient form of pet grooming in Houston that usually takes place inside of a van or other vehicle that has been converted to a salon.
The mobile groomer will park outside your house, apartment complex, or other residence and groom your dogs completely inside the van.
The inside of the van has all the same tools that a traditional salon would have, so your pup can be fully groomed right outside your home.
More convenient – Mobile grooming is more convenient because instead of loading your pets into the car, driving to the salon, dropping them off, waiting for them to be done, and then picking them up, the groomer comes directly to you, so you don't have to waste time during drop off and pick up.
Less stressful for you and your pet – Mobile grooming is less stressful because there aren't other dogs and groomers in the van to stress your dog out. It is a one-on-one experience, which also allows the groomer to be more focused on your dog.
Better communication between you and the groomer – Since the dog grooming in Houston is taking place right outside your home, communication is much easier and more effective.
Mobile dog grooming is a great option for busy professionals or families that just don't have the time to juggle taking their pup to the groomer along with everything else.
If you've never used mobile dog groomers in Houston before, you may be wondering how it works. Let's break down the steps of a typical mobile grooming appointment:
Contact us! – The first step is contacting your Houston dog grooming location. You can submit a quote request, book an appointment online, or just give us a call. All new customers will receive a quote before their appointment is booked or confirmed.
Schedule an appointment – Once you receive your quote and we confirm what services you're wanting, we can schedule an appointment for whatever day and time works best for you.
Day of the appointment – On the day your appointment is scheduled, your groomer will contact you to let you know what time they expect to arrive.
Groomer arrives – Once the groomer arrives, they will take some time to get to know your dog and what your expectations are for the grooming.
Inside the van – Once your dog is comfortable with the groomer, they will take your dog to the van and get started with the appointment.
While your dog is being groomed – During the appointment you will be able to check in with the groomer and they will send updates on how your dog is doing. Some businesses may allow you to leave your house to run errands if you know you will be back before the groomer is done with your dog.
Appointment is finished – Once the groomer is done, they will return your dog to the house and collect the payment from you. Some businesses have online payment options available.
As you can see, the process for a mobile dog grooming appointment is relatively straightforward. If you have any questions, you can always contact your specific groomer and ask them about their appointment process.
The prices of dog grooming can vary depending on many factors, such as: which company you use, your dog's breed, size, and coat type, and what services you need.
Cheap dog grooming in Houston may offer a more affordable service, but may not include everything you are wanting done for your dog.
Our prices range from $50 to $225 and our services include: nail trimming, nail filing, ear cleaning, ear hair removal, teeth brushing, triple shampoo, conditioner, cage-free blow dry, full haircuts, sanitary trimming, paw pad trimming, feathering and outline trims, de-shedding, and anal gland expression.
Overall, mobile dog grooming in Houston can be a wise choice if you are looking to save time, ensure your dog's well-being, and build a relationship with a groomer you can trust. 
Downtown Houston; Greenway; Houston Heights; Hyde Park; Independence Heights; Lazybrook; Memorial Park; Midtown; Montrose; Northside; Rice Military; River Oaks; Shady Acres; Timbergrove; Upper Kirby; Washington Avenue Coalition; Westmoreland; Woodland Heights
Phone : (713) 331-5486
Email : centralhouston@kontota.com
MON-SAT 9:00am-6:00pm
SUN Closed
Want the best for your fur baby?
Provide your furry friend the pampering they deserve with our services! Book an appointment now to treat your pet to a a fabulous spa day. Your pet will be in the best hands, and you'll love the convenience. Schedule your pet's mobile grooming session today!