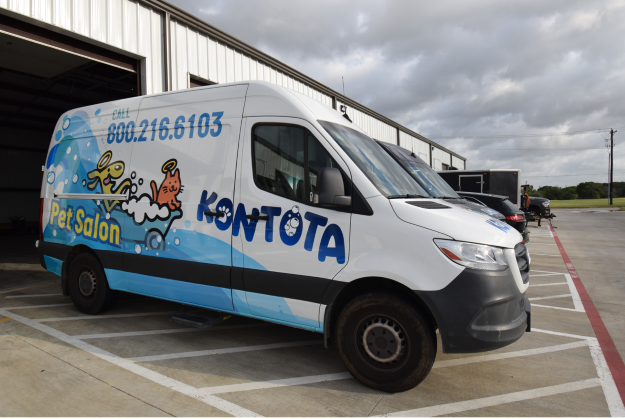 Mobile Dog Grooming Dallas TX
Are you looking for a mobile dog grooming service in Dallas TX that will not let you down? Kontota mobile grooming provides reliable and friendly service. We can't wait to show you why we are rated the number one groomer in the US.
Setting the Record for 5-Star Excellence in the Dallas TX
Dogs are our best friends and members of our family. At Kontota, dogs are treated like family every time.
Revolutionize your pet's grooming experience in the heart of Dallas, TX, as our mobile grooming services bring the spa treatment directly to your doorstep, combining convenience, expertise, and a dash of Texan hospitality for a truly pampered furry friend.
Is your pup ready for a salon quality groom?
Heard enough about our services and ready for prices? Are you ready to book an appointment? Go ahead and check out our online portal where are you can receive quotes and see appointment times.


Mobile Grooming in Dallas TX
Mobile pet grooming has countless advantages. Rather than driving your dog to a salon, our groomer will come to your house and perform the entire bath and haircut inside of their mobile grooming van. The mobile grooming van contains 60 gallons of freshwater as well as many other pieces of equipment that would be in a traditional salon setting. Additionally, we do not use any cages in our vans. Your dog will never have to be caged and will receive the highest level of specialized attention. We spend much more time with each dog and have a culture of quality over quantity. Providing mobile grooming services warms our hearts because we know that it's healthier and safer for pets. We also enjoy saving time for our customers and improving their life balance.


Safety is our main priority when it comes to our policies and training methods. When groomers come to work, they understand that they have a responsibility to their community, our customers, and themselves to put safety first. We empower all of our employees to put safety first in every single scenario. We also implement safety procedures to protect the dogs in our care. Safe driving is very important to us because it keeps our communities less vulnerable to harm.


Selecting the top-level equipment is a priority for us at Kontota. We have chosen our partners who have been in business for 30 years building mobile grooming vans. The vans that they build are the best in the country. They provide a safe and functional environment. They also have all the necessary equipment which is easy to maintain. Our vans contain fresh water so that we can wash each dog with clean water. We also have a water-heater in each van so that the bath is warm. Additionally, we have an air conditioning unit that keeps the van just as cool as an indoor home would be. We also have a heater to keep the air warm when it is wintertime.
Getting information and booking an appointment with us is extremely easy. Our phones are open seven days per week. We are even open on Sundays! Additionally, you can access our online booking platform for quotes and appointments at any hour. We will send you a customized link for your dog's unique pet portal that you can access at any time for further information. Being available and responsive is our focus.
Denton; Corinth; Highland Village; Lake Dallas; Hickory Creek; Shady Shores; Lantana; Lewisville; Flower Mound; Coppell; Hebron; The Colony; Carrollton
Are you ready to improve your dogs health and happiness?
Thank you so much for finding out about our safety policies, mobile pet grooming advantages and our vans!  We can't wait to serve you and provide you with more information. Feel free to give us a phone call or book an appointment online to get a quote.