Mobile Dog Grooming in Flower Mound, TX
Kontota provides quick and convenient mobile pet grooming services so your pet spends less time at the groomer's and more time with you!
Setting the Record for 5-Star Excellence in the USA
If you are looking for dog grooming in Flower Mound, you want an outstanding experience for your dog.
Dogs are part of the family, and pet parents put their feelings at the forefront when deciding about who to trust with their grooming. Flower Mound is a growing area of Texas with a highly educated population and some of the most beautiful houses around.  There are plenty of small parks to take dogs, and overall, a great place to have a pet.  Mobile dog grooming is present in Flower Mound, and pet parents are empowered to choose who is best suited for their dog.  Kontota is the top choice in the area when it comes to safety, communication, beauty, and care.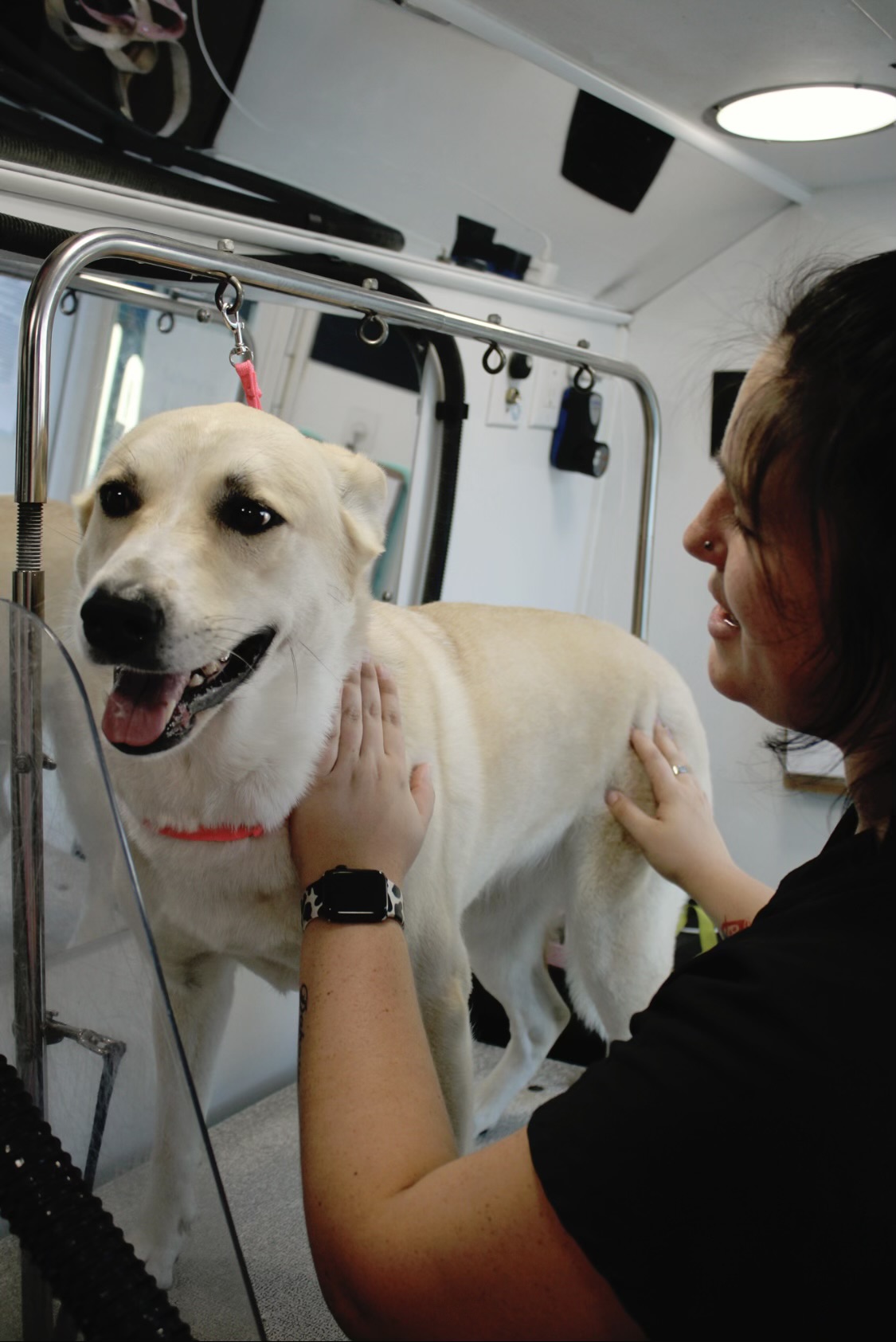 Mobile Grooming In Flower Mound, TX
According to Heady LLC, 57% of shoppers choose mobile shopping to shopping in stores.  Customers' desire for convenience is no secret.  However, the need for mobile pet groomers in Flower Mound goes far beyond convenience for the pet parents alone.  Customers are noticing the improved mental and emotional health of their dogs when receiving mobile grooming versus retail store style grooming.  They feel an ethical duty to protect their dogs from suffering the effects of caging, cage drying, and car sickness. 
The American Psychiatric Association observes that 86% of pet parents experience a higher level of emotional well-being due to their dogs.  Since dogs help our emotional health, we also want to help them feel healthier and happier.  It isn't a secret that cages increase dogs' stress and anxiety.  Yet, cages are a pertinent aspect of the retail store salon environment.  Kontota provides a cage free solution for dog bathing in Flower Mound. 
Kontota pet groomers in Flower Mound a safe environment that has far fewer pathogens than a salon.  There are fewer dogs circulated through the van than in a brick-and-mortar setting.  Additionally, dogs are not exposed directly to one another.  Between grooming appointments, groomers spray the van with sanitizer to ensure that disease doesn't spread.
Pet parents, especially those in Flower Mound, are dealing with a fast-paced culture that demands their time.  It is difficult to find several hours to take their dog to a pet salon.  Mobile groomers understand this need that pet parents have and are here to fill that need.  Coming to their house, mobile groomers take that load off your plate and give you back your time to spend as you need to.
When searching for pet grooming services in Flower Mound, Kontota rises to the top.  
Kontota mobile grooming has an innovative approach to scheduling that makes it possible to find a convenient time for all dogs that need our services.  We want to make sure all dogs and pet parents have access to the best, 5-star services around.  Kontota has over 1300 5-star reviews as well as over 10,000 5-star survey results on their internal customer questionnaires.  Give Kontota a try, you won't regret it!
Denton; Corinth; Highland Village; Lake Dallas; Hickory Creek; Shady Shores; Lantana; Lewisville; Flower Mound; Coppell; Hebron; The Colony; Carrollton
Want the best for your fur baby?
Provide your furry friend the pampering they deserve with our services! Book an appointment now to treat your pet to a a fabulous spa day. Your pet will be in the best hands, and you'll love the convenience. Schedule your pet's mobile grooming session today!