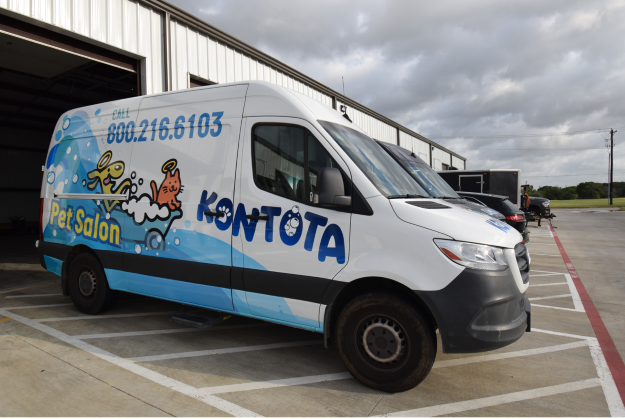 Mobile Dog Grooming Denton TX
Looking for a mobile dog grooming service in Denton TX that creates beautiful haircuts as well as increased comfort and safety for your dog? You don't need to look any further. We, at Kontota, are here to service all your needs. We cannot wait to show you why we are the best at what we do.
Setting the Record for 5-Star Excellence in Denton TX
Experience a tailored approach to mobile grooming in Denton, TX, where our skilled groomers combine expertise with a touch of Texan charm, ensuring your pet receives individualized care.
Our mobile grooming services bring a new level of convenience to Denton residents, with specialized vans designed to create a stress-free and comfortable environment for your furry companions. Embrace the uniqueness of mobile grooming as we cater to Denton's diverse pet-loving community, delivering exceptional services with a personal touch.
How ready are you to book an appointment?
Kontota grooming services are the best in the country. Check out our reviews online to see why. We would love to provide you with a quote, so go ahead and book an online appointment so that our team can reach out to you.
Mobile Grooming in Denton TX
Why mobile pet grooming? A better question would be why someone would not use mobile pet grooming. Mobile pet grooming is far more convenient and comfortable for both dogs and customers. Having a mobile groomer come to your house is a huge weight off your back. It is a relief not to have to drive your dog into a salon and deal with the stress. Also, your dog does not enjoy chaotic and stressful environments. They also don't enjoy being caged and confined. In a mobile pet grooming setting, dogs are not caged during the process. They are handled as if they are human with the sensitivity and care with which we would treat our families. At Kontota, we treat dogs like family, and we put dogs first.
Safety is a major priority at Kontota. Knowing that your dog is in trustworthy hands is an enormous relief for our customers. Choosing the most safety-minded and patient groomers is the wise choice. At Kontota, we emphasize safety during our orientation and our daily safety meetings. We emphasize safe driving, safe animal handling, and all other types of work safely.
The equipment in the mobile pet grooming van is developed for efficiency and to keep the dogs safe. Each van contains 60 gallons of freshwater. Freshwater is used on each bath so that the dogs get clean water for their baths. We do not reuse water on any of the dogs. Additionally, we have a water heater that warms up the bathwater. Also, we have an air conditioning unit that keeps the air just as comfortable as it would be inside a house. Also, we have a heating unit that is used to heat up the salon space during wintertime.
Customer service standards are very important to our overall culture. Being responsive and available is a priority for us. Our online booking platform is available at any time, even overnight. Also, our phones are open seven days per week so that you can reach us any day. Additionally, every time a customer books an appointment, they receive a customized URL for their dog's pet's portal. The pet portal contains information on scheduling and on the dog's appointments.
Denton; Corinth; Highland Village; Lake Dallas; Hickory Creek; Shady Shores; Lantana; Lewisville; Flower Mound; Coppell; Hebron; The Colony; Carrollton
How ready is your dog for a mobile groomer?
We are sure your dog is ready to feel better, happier, and healthier. Our groomers will not disappoint you.