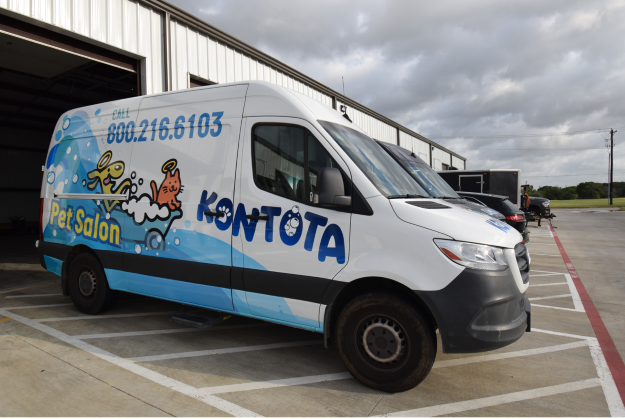 Mobile Dog Grooming Highland Village TX
Are you looking for mobile dog grooming in Highland Village TX that you can count on? Kontota Groomers are here for you! We are so excited to show you how we can help groom your dog and give you back your time.
Setting the Record for 5-Star Excellence in the Highland Village TX
At Mobile Dog Grooming Highland Village TX, we understand the importance of your pet's well-being and comfort.
That's why our expert groomers are not only highly skilled but also genuinely passionate about creating a stress-free and enjoyable grooming experience for your dog. We go beyond the typical grooming routine by tailoring our services to your pet's unique needs, ensuring they receive personalized care with every session.
Is your pup ready for a salon quality groom?
Book today and we can't wait to service you!
Mobile Grooming in Highland Village TX
Mobile pet grooming is a superior service to the traditional style grooming. Salons tend to be very noisy. They also tend to have a culture where dogs are treated more like objects and less like part of the family. At Kontota, we only provide mobile grooming services. We believe that mobile grooming is much more comfortable and safer for dogs.  Mobile grooming is cage free. None of the dogs are dried in cages. They are dried manually using a handheld blow dryer. The handheld blow drying ensures that the groomer can monitor the dogs' responses to the dryer. Knowing how the dog feels about the dryer allows the groomer to change the settings and make the groom more comfortable for the dog.  At Kontota, we also utilize happy hoodies which protect the dogs' ears from the loud noise of the dryer. This improves comfort for the dogs in our care.


Safety is our number one priority. We want to ensure that we can build trust with each customer. Our groomers undergo extensive training on injury prevention and dog safety. We also emphasize safe driving and safe use of the equipment. Maintaining our equipment is very important to us so that animals and humans in the van are 100% safe. Rather than feeling sad and down, pets are energized and optimistic.
Each van contains all of the equipment that is needed to service a dog. We provide fresh water, air conditioning, heat, water, heater, and all the other equipment that's needed for a full-service groom.  Our partners that have been in business for 30 years provide the best grooming vans on the market. We are excited to provide the highest-level grooming environment for each customer.
Isn't it fabulous knowing that you can reach us seven days per week?  Our phone lines are open every day. We are here for our customers when they need us. We also provide 24/7 online booking services and a customer portal that is unique to each dog. 


Denton; Corinth; Highland Village; Lake Dallas; Hickory Creek; Shady Shores; Lantana; Lewisville; Flower Mound; Coppell; Hebron; The Colony; Carrollton
Are you ready to improve your dogs health and happiness?
We sure are! Go ahead and book an appointment and you will not be disappointed.