Mobile Dog Grooming in North Dallas
Kontota provides quick and convenient mobile pet grooming services so your pet spends less time at the groomer's and more time with you!
Setting the Record for 5-Star Excellence in the USA
Are you in search of pet groomers in North Dallas? As a dog parent, you naturally accept only the best for your pets.
If you are looking for a viable alternative to traditional salons, then give mobile grooming a try! Say goodbye to a time consuming drop-off and pick-up routine. Let us show you why mobile dog grooming in North Dallas has been gaining popularity.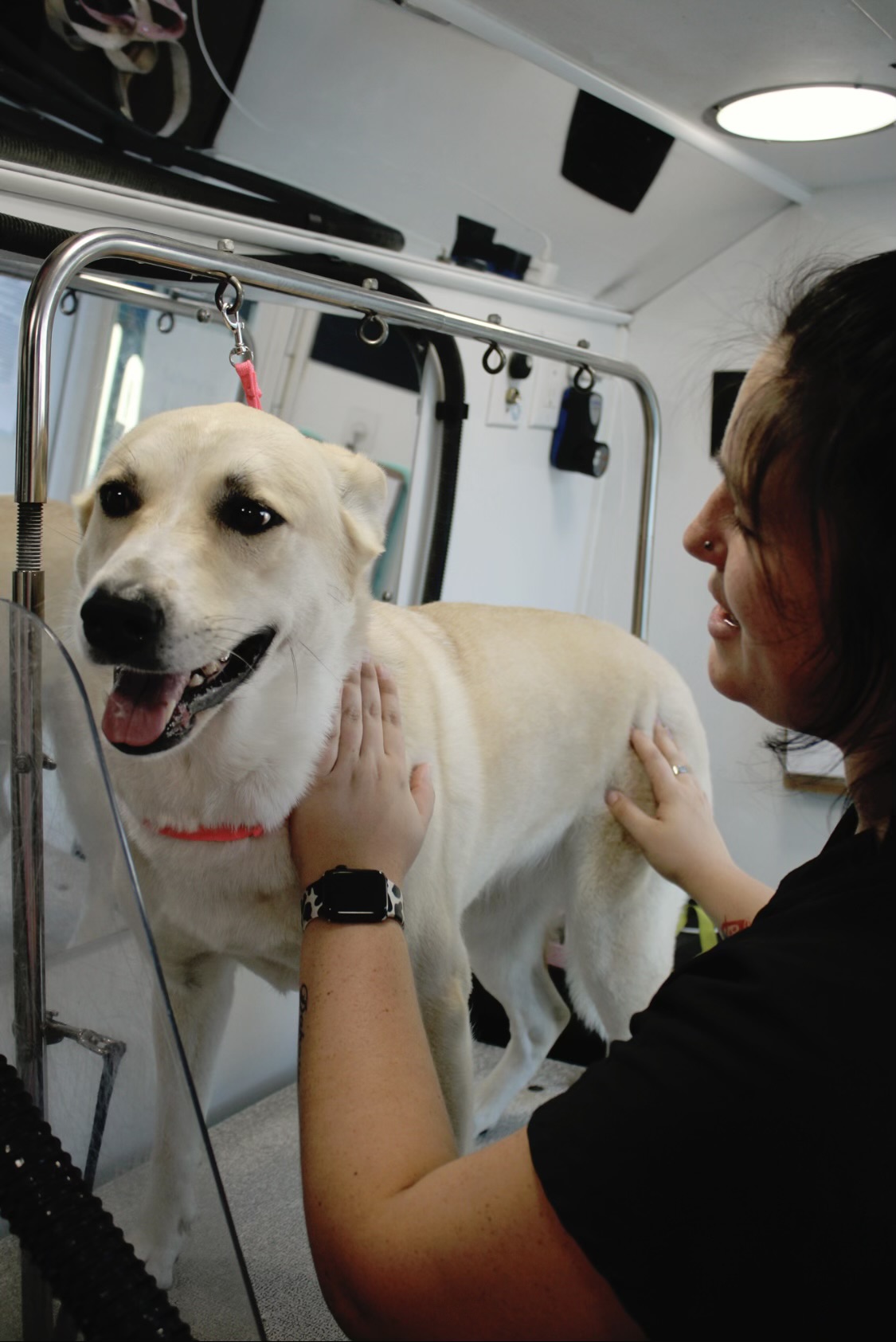 Mobile Grooming In North Dallas
Mobile grooming offers a more convenient approach to pet grooming. Most mobile groomers operate out of a van that has been converted into a complete grooming salon, though other vehicles such as busses and trailers may be used as well.The mobile groomer will show up to your residence and park outside in the street or in the driveway depending on your preference. They then complete the entire grooming appointment inside their vehicle.
Convenience – Mobile grooming is highly convenient. Instead of the lengthy usual routine of loading your pets in the car, driving to and dropping them off at the salon, the salon comes right to you!
Reduced stress – Mobile grooming is typically less stressful for both you and your pet. Unlike a brick and mortar grooming business, mobile grooming creates a personalized one-on-one experience for your fur babies.
Improved communication – Because the appointment is taking place right outside your home, communication become much easier and more effective.
Mobile dog grooming is an excellent choice, especially for busy families or professionals looking to simplify their lives when it comes to taking care of their pet.
If you're new to the process of mobile grooming, you may be wondering how it works. Let's walk through the steps:
Contact – Begin by reaching out to a local mobile pet grooming service. You can learn more about their prices and services and get a better understanding of what they will be able to do for you and your pet.
Appointment scheduling – Once you have decided on the services for your dog, you can schedule an appointment for a date and time that is convenient to you.
Day of the appointment – On the scheduled day, the groomer will let you know what time they are expecting to arrive. This will give you time to prepare for the appointment.
Groomer's arrival – When the groomer arrives, they may spend some time getting acquainted with your dog and understanding your grooming preferences and expectations.
Going to the van – The groomer will then escort your pup to their vehicle to begin the groom.
Updated during grooming – Throughout the appointment you will be able to stay in touch with the groomer through call, text, or if you want to talk to them about something face-to-face, you are welcome to knock on the van door. The groomer will also send updates on how the appointment is going. Some businesses allow owners to run errands if they expect to return before the appointment is done.
After the appointment is done – Once the groomer is done with the entire groom, they will return your pup to you and collect the payment. Most businesses will offer an online payment option for convenience as well.
Overall, the mobile grooming process is pretty straightforward. Different pet groomers in North Dallas may have different processes and policies, so it's a good idea to reach out if you have any questions.
Along with dog bathing in North Dallas, we also offer: nail trimming and filing, ear cleaning and hair removal, teeth brushing and breath freshening, triple washing including shampoo and conditioner, complete blow dry, full haircuts, sanitary trimming, outline and feathering trims, paw pad trimming, de-shedding, and anal gland expression.
Mobile dog grooming is a fantastic choice if you are looking to save time, ensure your dog's well-being, and build a relationship with a groomer you can trust. 
Aubrey; Krugerville; Oak Point; Prosper; Celina; Pilot Point; Sanger; Little Elm; Frisco; Plano; Mckinney; Allen; Fairview; Denton; Corinth; Shady Shores; Hickory Creek
Phone : 1 (800)-216-6103
Email : info@kontota.com
Want the best for your fur baby?
Provide your furry friend the pampering they deserve with our services! Book an appointment now to treat your pet to a a fabulous spa day. Your pet will be in the best hands, and you'll love the convenience. Schedule your pet's mobile grooming session today!