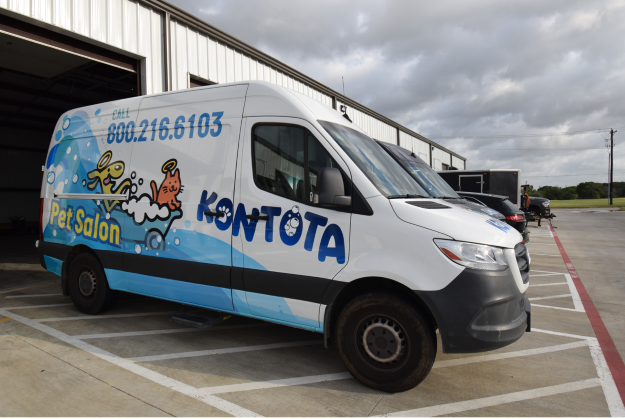 Mobile Dog Grooming Farmers Branch TX
Looking for mobile dog grooming in Farmers Branch? Kontota mobile pet grooming provides the highest level of service to our customers. We can't wait to show you why our services are rated at five stars.
Setting the Record for 5-Star Excellence in the Farmers Branch TX
Step into a world of unparalleled pet pampering with our Mobile Grooming in Farmers Branch, TX.
Our dedicated team of expert groomers is committed to providing a stress-free and personalized grooming experience for your furry friend. Convenience takes center stage as our fully equipped mobile grooming van arrives at your doorstep, eliminating the need for stressful travel. With top-notch service, cutting-edge equipment, and a passion for pet well-being, we redefine mobile grooming, making us the ultimate choice for your pet's care in Farmers Branch, TX.
Ready to book an appointment?
We are ready to serve you. Our groomers love serving animals and can't wait to meet your dog.
Mobile Grooming in Farmers Branch TX
Mobile pet grooming is advantageous because it is convenient and comfortable. Driving your dog to a salon is a pain. We want to alleviate that pain. The groomer pulls up to your house and your dog will get into the mobile grooming van and receive their grooming inside the van. There's no need to drive your dog to a groomer and have them wait in the cage all day to get groomed. It saves you money on gas and time spent. Additionally, the grooming vans are designed for efficient and high salon quality service. The quality, convenience and safety of mobile grooming makes it the top choice for pet parents.
Safety is at the forefront of our minds at Kontota. Every dog deserves to feel safe and comfortable in the van. Every customer deserves to feel trust towards their groomers. Our groomers are highly trained and skilled in injury prevention and our main emphasis is safety.
The equipment in the van is designed for efficiency and safety. The vans contain heat, air conditioning, water, heater, dryer, vacuum, table, and a workstation. Groomers carry all their tools with them to work. We also have 60 gallons of freshwater in each van that is refilled daily. Therefore, each dog gets a clean warm bath. We also have a full air conditioning unit and heating unit. Temperature control is important to us.
As far as customer service goes, Kontota is number one. Our customers can reach us seven days a week. Our customer service representatives are friendly, patient, compassionate, and have a strong love for animals. Feel free to call us during the day. We also have an online platform where you can book online at any point even in the middle of the night.
Denton; Corinth; Highland Village; Lake Dallas; Hickory Creek; Shady Shores; Lantana; Lewisville; Flower Mound; Coppell; Hebron; The Colony; Carrollton
How ready is your dog for a mobile groomer to come to you?
Our state-of-the-art mobile grooming van is equipped with the latest tools and facilities, providing a clean and safe space for your pet's grooming needs. From luxurious baths and stylish haircuts to nail trims and ear cleaning, we offer a comprehensive range of services to keep your dog looking and feeling their best.