Mobile Dog Grooming in Aubrey TX
Kontota provides quick and convenient mobile pet grooming services in Aubrey TX so your pet spends less time at the groomer's and more time with you!
Setting the Record for 5-Star Excellence in the USA
Kontota is proud to say that we are the leading mobile pet groomers in Aubrey TX. There is a Kontota van on every corner.
Kontota dog groomers in Aubrey TX are friendly and will wave back as they drive through your neighborhood.  Our core values include safety, customer satisfaction and continuous improvement.  We are always looking for innovative ways to satisfy our customers and ensure that they get the best experience.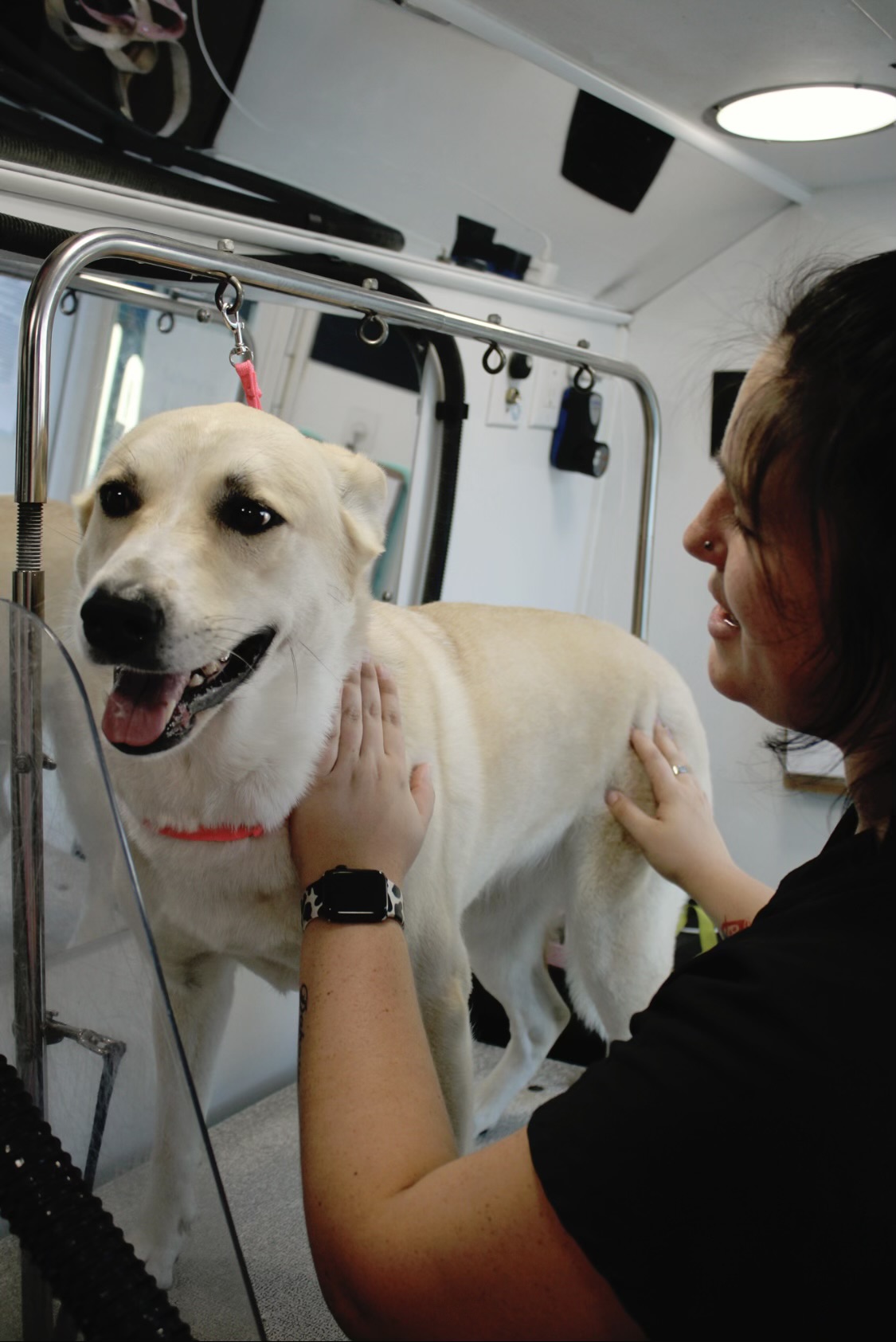 Mobile Grooming In Aubrey TX
Mobile pet grooming in Aubrey TX consists of a groomer coming to your house and grooming your dog right outside your door. The mobile groomer in Aubrey TX will send you an ETA, drive over to your house, get your dog in the van, groom, your dog, and then give them back to you all, clean and happy. The mobile grooming experience is much better than bringing your dog into a salon where they must sit in a cage all day. It shouldn't take all day long to get your dog groomed. Kontota, we value convenience and efficiency. We make sure that we don't waste your time driving out to us. That's why our pet groomers in Aubrey TX are coming to you!
Many customers choose mobile dog grooming in Aubrey TX because it is a more comfortable experience for their pet. Many pets are anxious about going to a groomer, because there is a lot of loud noise in most salons. When there are many dogs in one room, it can be an evitable for there to be a lot of noise. The mobile grooming van is a very quiet environment, where dog bathing in Aubrey TX can be comfortable and relaxing.  Where are your dog can build a connection with their bathers in Aubrey TX and have a friendly experience.
Kontota, we value the customer's experience as well as the dog's experience more than anything else. We would make sure that your dog is comfortable and that you are also comfortable with the whole Grooming process. This is why our Groomers communicate throughout the groom and provide mid-groom updates.  Kontota pet groomers in Aubrey TX are the right choice for your pup!  Book today!
Denton; Corinth; Highland Village; Lake Dallas; Hickory Creek; Shady Shores; Lantana; Lewisville; Flower Mound; Coppell; Hebron; The Colony; Carrollton
Want the best for your fur baby?
Give your fur baby the grooming they deserve with our services! Book an appointment now before it is too late. Your pet will be safe and comfortable, and you'll love the convenience. Schedule your pet's mobile grooming session today!