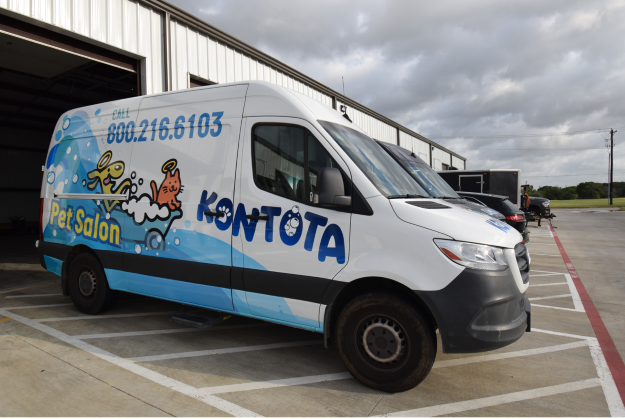 Mobile Dog Grooming Allen TX
Have you ever tried mobile dog grooming in Allen TX? If you have not, you are in for a treat! If you have tried mobile grooming before, you will find that Kontota provides the best service in your area. We prioritize safety and health, as well as providing an amazing customer experience.
Setting the Record for 5-Star Excellence in the Allen TX
At Mobile Dog Grooming Allen TX, we understand the importance of your pet's comfort and peace of mind.
Experience the difference of Mobile Dog Grooming Allen TX – where top-notch service meets unmatched convenience. Your pet deserves the best, and we're here to deliver it, one grooming session at a time. Book your appointment today and treat your furry friend to the pampering they deserve, all from the comfort of your home in Allen TX.
Is your pup ready for a salon quality groom?
Are you ready to see your dog looking happy after their grooming appointment? It's a wonderful feeling to see your dog wagging their tail and jumping around after they got their groom. Kontota emphasizes safety, health, and communication.
Mobile Grooming in Allen TX
Driving your dog into a salon is inconvenient for you and uncomfortable for your pet. Dogs tend to get carsick in the car. Also, people are busy and don't have time to drive their dog to a salon. It's much more reasonable to hire a groomer to come to your home, than to waste your time, driving your dog into a salon. Salons are very noisy and chaotic. They contain cages which can traumatize dogs. At Kontota, we do not cage dogs at any point during the entire Grooming process. That way, the dogs feel much better and our care.
At the heart of Kontota's culture is our main priority of safety. We train extensively on injury prevention and have strict policy to ensure the safety of dogs. We also emphasize safe driving within our communities.
Every piece of equipment that is in a salon can also be in a mobile pet grooming van. Our partners have been in business for 30 years. They have designed state of the art mobile grooming vans. We are very proud to use these beautiful grooming vans and provide a wonderful experience for our customers.
We are available to speak to you seven days a week. We have an administrative team that is top-of-the-line. We also provide an online experience for all our customers that allows them to reach us at any hour. Booking online is highly useful and preferred by many customers. Reach out to us when you're ready to book an appointment!
Denton; Corinth; Highland Village; Lake Dallas; Hickory Creek; Shady Shores; Lantana; Lewisville; Flower Mound; Coppell; Hebron; The Colony; Carrollton
How ready is your dog for a mobile groomer?
We are sure your dog is ready to feel better, happier, and healthier. Our groomers will not disappoint you.