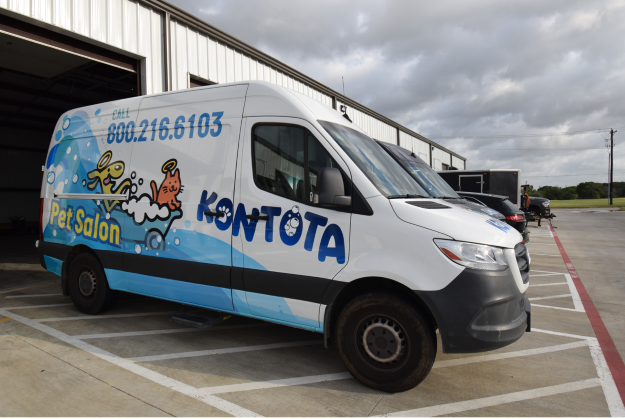 Mobile Dog Grooming Timberwood Park TX
Are you ready to find a mobile dog grooming service in Timberwood Park that is friendly and values safety? You have come to the right place since Kontota is a mobile grooming service that puts your dog's safety and well-being first. We will show you why we have earned so many five-star reviews from our customers.
Setting the Record for 5-Star Excellence in Timberwood Park TX
Any dog that is serviced by our professional mobile groomers is treated like family.
Bringing the salon to your doorstep, our mobile pet grooming service in Timberwood Park, TX, offers a tailored and convenient experience that combines expertise with personalized care, ensuring your pets receive the utmost attention and pampering.
Have you heard enough information to be ready for a price?
When you request an online appointment, you will receive a text or phone call from our team to provide you with much more information about pricing and your dog's recommended services.
Mobile Grooming in Timberwood Park TX
If you have never tried mobile pet grooming before, you are in for a treat. Driving all the way to a salon wastes much of your time and takes away from many other things that you could be doing. Additionally, dogs prefer mobile grooming for obvious reasons. They don't enjoy being caged, and they also don't enjoy the chaos of traditional salons. Many salons are full of barking dogs, and they tend to have a culture of quantity over quality. Mobile pet groomers, however, have an approach to grooming that emphasizes quality over quantity. We take our time to build a relationship with each dog.
You value the safety of your dog and so do we. Being safe is at the forefront of our minds when we make decisions about our policies and procedures. Discussing safety with our staff is part of our routine. We provide extensive safety training as well as implement practical safety strategies into our routines.
Mobile pet grooming vans have impressive equipment. Our grooming vans are battery-based, so we do not need to plug them into your home. 100% of the power is contained in the van. Also, there is a large freshwater tank in the back of the van that is refilled each day. 60 gallons of freshwater is held in the van to enable us to wash each dog with clean water. Temperature control is also considered. There is a air conditioning unit and a water heater in each van. Furthermore, there is a heater for the salon area that is utilized during the winter.
When you talk to our team, you will hear the caring and patience in their voices. Our wonderful staff cares deeply about our customers. We build long-term relationships with each customer. Additionally, our phone lines are open seven days per week. We also have an online booking platform where you can book online at any point. What's more, you will receive a customized URL for your dog's pet portal when you book an appointment. The pet portal shows your upcoming appointments an appointment history.
Alamo Ranch TX; Helotes TX; Fair Oaks TX; Boerne TX; Leon Springs TX; Grey Forest TX; Shavano TX; Timberwood Park
Are you ready to improve your dogs health and happiness?
Are you ready to treat your dog to a mobile spa day? Our groomers are so ready to serve you and start our journey towards a long-term family relationship.