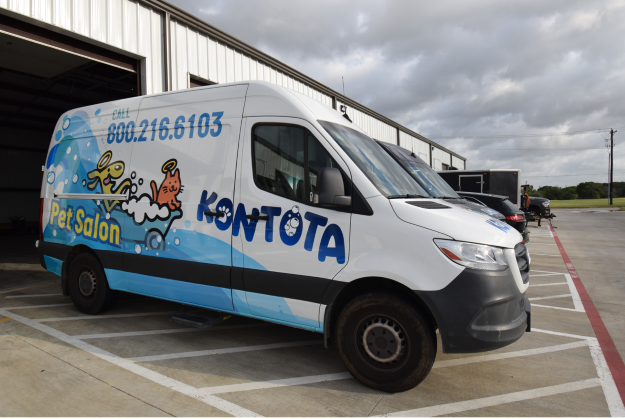 Mobile Dog Grooming Alamo Ranch
Are you looking for mobile dog grooming in Alamo Ranch? You don't need to look anymore! Kontota is ideal for every dog. We put dogs first and make them feel valued every time.
Setting the Record for 5-Star Excellence in Alamo Ranch
At Mobile Dog Grooming Alamo Ranch TX, we care about your pet's health and wellness.
Treating dogs like family is our culture. We know that dogs are just as special as humans, and we provide them with the highest level of care.
Is your pup ready for a salon quality groom?
Are you ready for a Kontota van to come to your house? Our customer service representatives are excited to provide you with a quote and any other information you may need for your appointment.
Mobile Grooming in Alamo Ranch
Wouldn't it be great to have a mobile groomer drive up to your house and groom your dog conveniently at your doorstep? Our groomers are 100% mobile. Our vans have all of the equipment needed to provide five-star services to customers. The mobile grooming van consists of a grooming table, workstation, two dryers, a hydromassage system, and many other pieces of equipment. Unlike traditional salons, the mobile grooming van does not have any cages. Providing a cage-free experience for dogs is one of our greatest achievements. Dogs do not enjoy being caged, and they are far happier after their appointment if they have not had to experience a cage. Customers report that their dogs tend to be in a much better mood because they did not have to experience the stress of cages nor cage drying. Additionally, the mobile grooming vans are much quieter than a traditional brick and mortar setting.


Safety is number one in Kontota's culture. We have daily safety meetings and discuss the subject of safety constantly. Every individual that we hire is carefully screened to ensure that they are safety minded. We talk about safe driving as well as safe animal handling. Preventing accidents is our main priority. We have conducted studies on some of the main safety concerns in the industry to ensure that our training covers all the most important topics.
Ready to take a tour of the van? We would love to show you around. Our van contains a battery system that allows it to run without getting plugged into your house. Also, we have our own fresh water in a 60-gallon freshwater tank. This tank ensures that we can wash up to 12 dogs per day. All of the dogs get clean freshwater for their bath. Also, we have temperature control within the van. We have an air conditioning unit as well as a heating unit that keeps the salon space comfortable. Additionally, we have a water heater that provides a warm bath for each dog. Of course, there is also a dryer, vacuum, table, workstation, and many other pieces of necessary equipment that allow our groomers to complete their work.


Getting a hold of us is very easy. We are available seven days per week, even on Sundays. We will always respond if you need us. Also, we have an online booking platform that is available at all times. Additionally, when you book an appointment with us, we will send you a customized URL that provides you with tons of special information about your pet and their appointments.


Alamo Ranch TX; Helotes TX; Fair Oaks TX; Boerne TX; Leon Springs TX; Grey Forest TX; Shavano TX; Timberwood Park
Are you ready to improve your dogs health and happiness?
After you've learned about our safety protocols, vans, and customer service, it is a no-brainer that Kontota is the best choice for your pet. We can't wait to serve you. Inquire online to get a quote and find out appointment times.