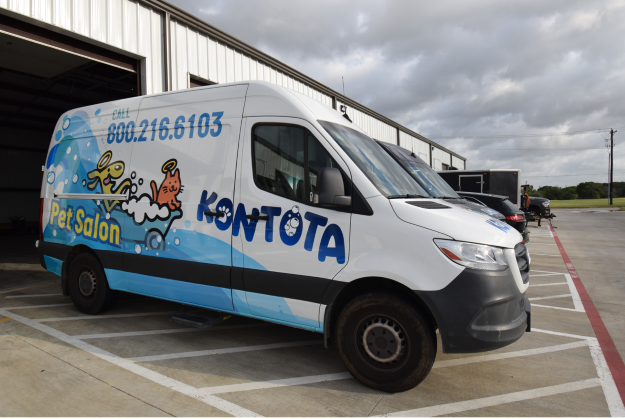 Mobile Dog Grooming Helotes TX
Are you a pet parent who is in need of mobile dog grooming in Helotes TX? Look no further! Kontota provides amazing service to each customer. Find out why we are the best.
Setting the Record for 5-Star Excellence in Helotes TX
In Helotes, TX, our mobile grooming service stands out as a beacon of convenience and excellence, delivering top-tier pampering for your beloved pets right at your doorstep.
Dogs are a part of the Kontota family. We embrace each dog as if they are human.
Do you need any more information or are you ready to find out our prices?
When you book online, a customer service representative will reach out to you and provide you with a price.
Mobile Grooming in Helotes TX
Driving to a salon can be a nuisance for customers. It means getting the dog inside of the car, dealing with the car sickness that follows and the overall hassle, and normally, there is a long wait that's needed at the groomers. With a mobile grooming service, the groomer comes to your house. Our mobile grooming van has all of the equipment that a traditional salon contains. Therefore, you can be assured that the quality of the haircut and bath will be at least that of any traditional salon. What's more, our groomers are specialized in providing five-star services that go above and beyond expectations. When the mobile grooming experience is cage-free, dogs have a higher level of emotional well-being. They tend to be in a much better mood when they do not have to be caged at any point during the grooming process. Also, getting groomed at a salon can be stressful because of the noise and exposure to other animals. Grooming salons can be very hectic and scary for dogs. The mobile grooming salon is quiet and individual. Our groomer takes extra time to build a relationship with each dog. It is a no-brainer to use mobile pet grooming.
Are you concerned about safety for your pet? You will be happy to hear that safety is our focus at Kontota. We go through a rigorous hiring process to weed out any individuals who do not consider the safety of your dog first and foremost. We also have routine safety meetings and discuss safety topics on a regular basis. We conduct continuous research to minimize and reduce any kind of risks. Our main focus in management is safety. Trusting that your dog is in good hands is a huge weight off of your back.
Many customers wonder if there is temperature control in the mobile grooming vans. You will be relieved to learn that the vans have temperature control. There is a large air-conditioning unit in the back of the van. Also, there is a heating unit that will warm up the salon space. We have a water heater that will heat up the bath and allows each dog to get a nice warm spa treatment. Also, our vans have a 60-gallon freshwater tank in the very back. This tank is refilled on a daily basis. Knowing that your dog will get a clean bath with fresh water makes a big difference for our customers. Of course, the mobile grooming van has all of the other regular equipment that is needed for a salon setting. Dryers and vacuums as well as other equipment are all present in the van.
Receiving great communication is very important to our customers, and our team recognizes this need. We know that your dog is a member of your family. Therefore, we want to learn what your unique preferences are regarding your pet. Feel free to call us any day of the week, since we are always open during the day. Also, we have a online booking platform that empowers our customers to book their own appointments as needed. When you book an appointment with us, you will receive a URL that will link you to your dog's unique pet portal. Your dog's pet portal will display information about your dog's appointments and much more.
Alamo Ranch TX; Helotes TX; Fair Oaks TX; Boerne TX; Leon Springs TX; Grey Forest TX; Shavano TX; Timberwood Park
Are you ready to improve your dogs health and happiness?
Now that you've learned about our core values, customer service, top-of-the-line equipment, and all the wonderful benefits of mobile pet grooming, booking an appointment with us is the next step. Reach out to our customer service team to receive a quote. Any customer that books online that has never used us before will also receive a text message or a phone call from our staff to provide them with a price.