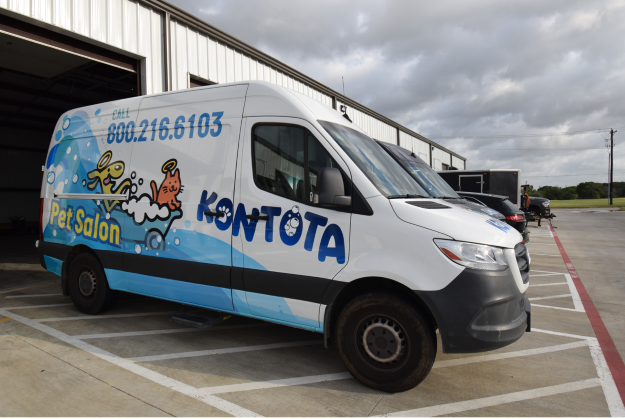 Mobile Dog Grooming Shavano TX
Are you ready to find a mobile dog grooming service in Shavano TX that puts your dog first? At Kontota, we have family values where dogs really are part of our family. We understand that dogs are our customers' fur babies, and we want all dogs to feel valued and understood. Looking beautiful and feeling great is an aspect of life that every dog deserves.
Setting the Record for 5-Star Excellence in Shavano TX
Any dog that is serviced by our mobile groomers is treated like family. Dogs really are valued and important members of our families.
In Shavano, TX, our mobile dog grooming service embodies the epitome of canine luxury, offering a tailored and stress-free grooming experience that prioritizes the well-being and comfort of your furry companions.
Have you learned enough about us to be curious about a price?
When you book an appointment online, our team will text or call you with much more specific information about the cost and what services would be best for your dog.
Mobile Grooming in Shavano TX
Mobile pet grooming has countless benefits and advantages. Taking your dog to a salon can be an enormous inconvenience for anybody. Many dogs do not enjoy getting into the car. Even if they do like being a passenger in a car, once they get to a salon, no dogs enjoy getting into a cage. Driving your dog to the salon wastes your time when you could be doing much more valuable activities. Mobile groomers come to your house, so that you do not need to bother with driving your dog to a salon. Also, mobile grooming vans are a much quieter and more comfortable environment for dogs. A dog's emotional health is negatively impacted when they experience stress from being caged and listening to other dogs barking. Valuing your dog's emotional health is part of your decision to use mobile grooming services.
When safety is number one at a company, far fewer mistakes happen, and there is a higher level of trust between customers and the team. Kontota puts safety first before any other considerations.  Our team is heavily trained and held accountable in our safety protocols to protect our customers and dogs. We treat dogs like family and put their safety first.
One of the most common questions that we receive are about temperature control in our vans. Hot summers and cold winters do not bother us since we have temperature control.  We have an air conditioning unit and a heater that keeps the van very comfortable. Also, there is a water heater that warms up the bathwater. We have a large, 60-gallon water tank in the back of the van that is refilled every day. When dogs are getting washed, the water is always clean. Also, our battery-based system ensures that we have an independent power base and do not need to plug into your home.


Have you ever talked to a customer service representative and felt clearly that they cared about you and your family? That is how customers feel when they speak to our team. The team members that we hire share our core values of customer satisfaction and safety. We listen carefully and we truly care about your dog and your experience. Our phone lines are open every day. You can speak to us directly, and a human being will answer you. Also, booking online is available at any time. Upon booking a grooming appointment, you will receive a link to a custom portal where you can access specific information about your dog's appointment.


Alamo Ranch TX; Helotes TX; Fair Oaks TX; Boerne TX; Leon Springs TX; Grey Forest TX; Shavano TX; Timberwood Park
Are you ready to improve your dogs health and happiness?
Are you ready to see your dog happy and healthy jumping out of our mobile grooming van? We can't wait to provide you with an outstanding service and welcome you into our family. Request a quote online and our team will reach out to you with more information about pricing.