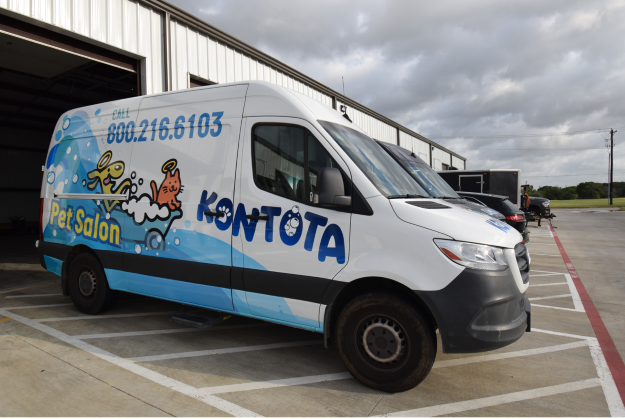 Mobile Dog Grooming Leon Springs TX
Have you been searching for a mobile dog grooming service in Leon Springs TX that meets your pet's unique needs? Building a strong bond with each of the dogs that we service is a major priority for us at Kontota. When you reach out to us, you will realize how much we value and care about animals.
Setting the Record for 5-Star Excellence in Leon Springs TX
Knowing that your dog will be treated like a member of the family is a huge relief when you hire Kontota to come to your home.
In Leon Springs, TX, our mobile grooming service epitomizes the pinnacle of pet care, seamlessly blending convenience and expertise to bring a spa-like experience directly to your doorstep, ensuring your furry companions receive the royal treatment they deserve.
Have you heard enough about our services and are ready for a price?
When you book online, a customer service representative will reach out to you directly to provide you with a quote and learn about all unique needs for your furry family member.
Mobile Grooming in Leon Springs TX
Imagine you were a dog. Would you prefer to go to a salon where you would have to wait in the cage for many hours or would you rather have a groomer come to your home and get groomed right outside your doorstep? For dogs, it is a no-brainer to have the groomer come to their house. For customers, we can see the value right away. Driving your dog to the salon is a hassle and takes away from your busy day. With more and more to do, customers have difficulty finding time to drive their dog to a salon. Salons are very hectic and noisy, so dogs tend to feel anxiety when they are exposed to that level of noise. In the mobile grooming salon, dogs get one on one care, which is an enormous comfort to them.
The most common subject discussed amongst our team is safety. Safety pervades every single meeting and training. During our interviews, we ask questions that are thought out to reveal those who are most safety minded. People who are safety-minded are considered for the job. Having a culture of safety is an element that we all value and protect at Kontota. Safety, to us, regards animal-handling, employee safety, customer safety, and driving safely in our communities. It also concerns the way that we check our equipment to ensure that it is properly maintained and ready for use. Valuing safety is a major aspect of our culture.
Doesn't it feel great knowing that each dog gets a clean and warm bath when groomed in our mobile setting? Our 60-gallon water tank is filled up every day. We also have a water heater that efficiently and effectively warms up the bath to the perfect temperature for your dog. An air-conditioning unit and heater is installed in the van so that the salon temperature is perfect for the dog and groomer. Warm summers and cold winters are not a problem for our mobile grooming van. Also, the salon contains the typical equipment that would be in a traditional salon, such as a vacuum and a dryer.
Providing excellent customer service is fundamental to our culture. When our team talks to our customers, you can hear love and care in their voices. We hold ourselves to the highest standards of communication and relationship building. Our phone lines are open and available seven days per week. Also, feel free to book online when we are not open. When you book an appointment, we text a URL that gives you access to a unique pet portal with useful information about your dog's appointment.
Alamo Ranch TX; Helotes TX; Fair Oaks TX; Boerne TX; Leon Springs TX; Grey Forest TX; Shavano TX; Timberwood Park
Are you ready to improve your dogs health and happiness?
Are you ready to book? Your dog definitely agrees! Kontota is the number one choice by dogs because they know how much they will be loved and cared for by our team. They also know that mobile grooming is the way to go because it puts dogs first.