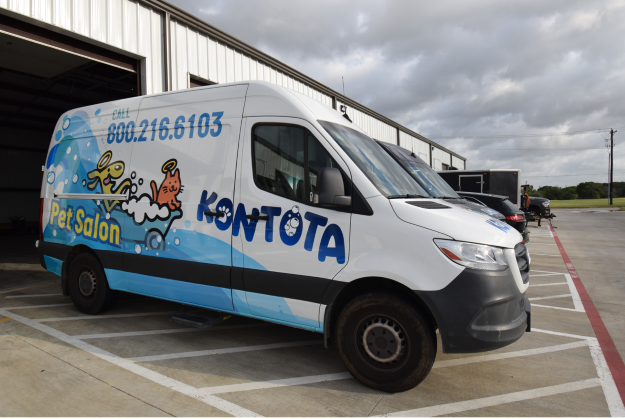 Mobile Dog Grooming Hunters Creek Village TX
Need mobile dog grooming in Hunters Creek Village TX? Step into the world of Kontota, where we recognize that your cherished companion holds a special place in your family. Ensuring their joy and contentment throughout the grooming experience is our unwavering commitment. While the quest for the perfect groomer may seem daunting, we've streamlined the process, making it effortless and stress-free for you.
Setting the Record for 5-Star Excellence in Hunters Creek Village TX
Improve your pet's grooming experience with the convenience of mobile grooming services in Hunters Creek Village, TX.
Kontota offers a premier mobile grooming experience in Hunters Creek Village TX, blending meticulous 27-step care, salon-level quality, and a commitment to natural products, all within sanitized vans equipped for comfort and health, ensuring safety and customer satisfaction while prioritizing the well-being of your furry family member.
Is your pup ready for the groom of a lifetime?
Treat your furry friend to a pampering session without leaving the comfort of your Bellaire home! Schedule a mobile grooming appointment today and let our expert groomers bring the salon experience right to your doorstep. Give your pet the care they deserve – book now for a stress-free and convenient grooming experience in Bellaire, TX!
Mobile Grooming in Hunters Creek Village TX
Opt for the comfort of mobile grooming with Kontota, a refreshing alternative to traditional brick-and-mortar salons. Our groomers drive to your location, providing a stress-free grooming experience right in the convenience of your driveway. The absence of cages and a serene atmosphere contribute to the emotional well-being of your dog, enhancing the overall enjoyment of the grooming process.
Safety is ingrained in our service ethos. Prioritizing it during employee orientation, conducting regular safety meetings, and encouraging our team to make the safest choices are integral to our commitment. Your trust in us to care for your fur baby is paramount, and we take every measure to ensure a secure and comfortable experience.
Our mobile grooming vans boast top-notch facilities designed for both comfort and health. From fresh water and air conditioning to heaters, vacuums, and dryers, we've meticulously considered every detail to provide an efficient and enjoyable grooming experience for your cherished canine companion.
For your convenience, our customer service is available seven days a week. Recognizing the importance of prompt responses, our pet portal, accessible online at any time, and our user-friendly online booking platform make scheduling and communication a breeze.
Downtown Houston; Greenway; Houston Heights; Hyde Park; Independence Heights; Lazybrook; Memorial Park; Midtown; Montrose; Northside; Rice Military; River Oaks; Shady Acres; Timbergrove; Upper Kirby; Washington Avenue Coalition; Westmoreland; Woodland Heights
Phone : (713) 331-5486
Email : centralhouston@kontota.com
MON-SAT 9:00am-6:00pm
SUN Closed
Are you ready to improve your dogs health and happiness?
In conclusion, at Kontota, we prioritize safety and comfort to deliver the ultimate grooming experience for your furry family member. We're here for you and eagerly anticipate the opportunity to serve both you and your beloved pet!