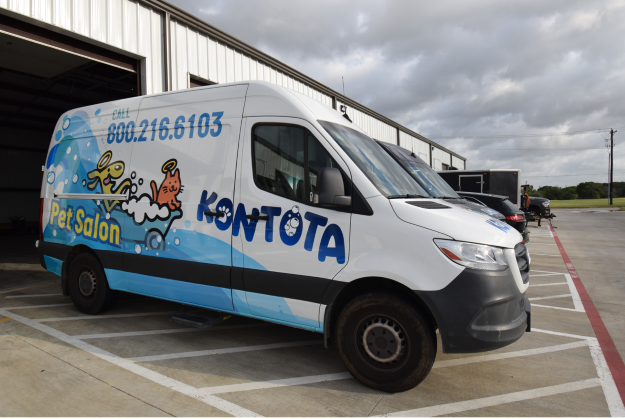 Mobile Dog Grooming Bellaire TX
Need mobile grooming in Bellaire TX?  We understand that your fur baby is an integral part of your family, and ensuring their happiness and comfort during the grooming experience is paramount. Finding a groomer can be challenging, but we make it easy here at Kontota."
Setting the Record for 5-Star Excellence in Bellaire TX
Elevate your pet's grooming experience with the convenience of mobile grooming services in Bellaire, TX.
Our professional groomers bring a personalized touch right to your doorstep, ensuring a stress-free and comfortable environment for your furry companion. Experience the luxury of top-notch grooming without leaving the comfort of your Bellaire home.
Is your pup ready for a salon quality groom?
Treat your furry friend to a pampering session without leaving the comfort of your Bellaire home! Schedule a mobile grooming appointment today and let our expert groomers bring the salon experience right to your doorstep. Give your pet the care they deserve – book now for a stress-free and convenient grooming experience in Bellaire, TX!
Mobile Grooming in Bellaire TX
Opting for mobile grooming provides a more comfortable alternative to traditional brick-and-mortar grooming. Our mobile groomers come to your house in a fully equipped grooming van, offering the same amenities as a traditional salon. Dogs benefit from the quieter and cage-free environment, leading to a more emotionally healthy grooming experience.
Safety is a top priority at Kontota, discussed during employee orientation and emphasized through daily safety meetings. Our commitment to safety ensures that customers feel at ease and trust us with their fur baby, promoting a secure and reliable grooming experience.
The equipment in our mobile grooming vans is designed for both comfort and health, ensuring an efficient grooming experience. Each van features amenities such as fresh water, air conditioning, heat, a water heater, vacuum, dryers, and more. Feel free to ask the groomer for a tour of the van to witness firsthand what we have in store for your dog
Kontota has you covered when it comes to customer service. We understand the importance of quick responses, and therefore, we are open seven days a week to address phone calls. Additionally, our online pet portal is accessible at any time, providing a convenient platform for customers to manage their appointments.
Downtown Houston; Greenway; Houston Heights; Hyde Park; Independence Heights; Lazybrook; Memorial Park; Midtown; Montrose; Northside; Rice Military; River Oaks; Shady Acres; Timbergrove; Upper Kirby; Washington Avenue Coalition; Westmoreland; Woodland Heights
Phone : (713) 331-5486
Email : centralhouston@kontota.com
MON-SAT 9:00am-6:00pm
SUN Closed
Are you ready to improve your dogs health and happiness?
As evident, Kontota prioritizes the highest levels of safety and comfort for our customers. We are here for you whenever you need us and look forward to servicing you!