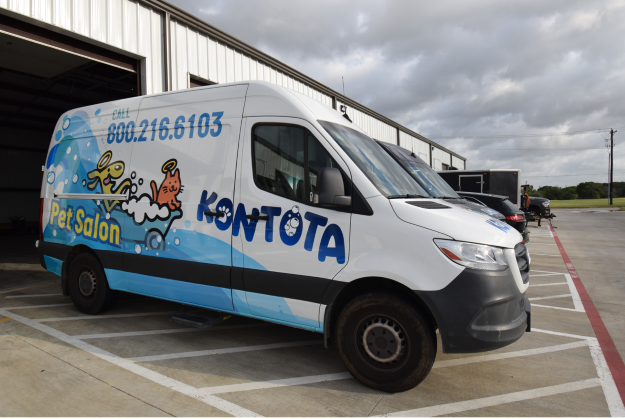 Mobile Dog Grooming Spring Valley Village TX
Are you in search of a reliable mobile dog grooming service in Spring Valley Village TX? Embark on an extraordinary canine spa adventure with Kontota Grooming, your premier mobile grooming service. In search of reliability? Look no further! Revel in the transformation of your dog's grooming routine while gaining the luxury of time for other pursuits.
Setting the Record for 5-Star Excellence in Spring Valley Village TX
At Kontota, we value the quality of our services to each pet. You can rest assured that your pet will be treated like family.
Are you prepared for a fabulous mobile spa day for your pup?  Our team so ready to serve you.  Book online today and we will reach out to you with pricing.
Ready for a spa-quality session?
Schedule with Kontota for a seamless transition from routine grooming to an extraordinary and personalized experience. Mobile spa grooming at Kontota prioritizes the comfort and safety of dogs, fostering an environment that enhances overall well-being.
Mobile Grooming in Spring Valley Village TX
Mobile grooming stands out as a superior option compared to traditional salons for several compelling reasons. Firstly, it prioritizes the comfort and safety of pets, providing a cage-free and noise-free environment that minimizes stress. This personalized approach extends to the grooming process itself, as mobile units allow for one-on-one attention, ensuring that each pet receives undivided care and a less intimidating experience. Additionally, mobile grooming offers unmatched convenience, eliminating the need for pet owners to travel, saving time and reducing potential anxiety for their furry friends. The thorough sanitization of mobile units between appointments ensures a consistently hygienic space, surpassing the cleanliness standards of many static salons. With accessibility at the forefront, mobile grooming services often boast flexible scheduling, accommodating the diverse needs of pet owners. Ultimately, the mobile grooming experience combines convenience, personalized care, and a stress-free environment, making it a preferred and advantageous choice for both pets and their owners.
Safety is paramount at Kontota. Groomers undergo extensive training in injury prevention and pet safety, emphasizing safe practices. A commitment to top-notch equipment ensures the safety of both animals and humans in the grooming unit, building trust with every customer.
Kontota's mobile spa units boast unparalleled equipment excellence, offering fresh water, climate control, and more. With over 30 years of collaboration with industry leaders, they provide the highest-level spa environment for every valued customer, reflecting a commitment to innovation and excellence.
Exemplary customer service is always within reach at Kontota. Reach them seven days a week via phone, utilize 24/7 online booking services, and access a unique customer portal tailored to each pet. This commitment to accessibility and personalized service ensures that your experience with Kontota extends far beyond the grooming session.
Downtown Houston; Greenway; Houston Heights; Hyde Park; Independence Heights; Lazybrook; Memorial Park; Midtown; Montrose; Northside; Rice Military; River Oaks; Shady Acres; Timbergrove; Upper Kirby; Washington Avenue Coalition; Westmoreland; Woodland Heights
Phone : (713) 331-5486
Email : centralhouston@kontota.com
MON-SAT 9:00am-6:00pm
SUN Closed
Schedule your appointment today and witness the Kontota difference – where excellence meets the doorstep of your home, and your pet's well-being is our top priority!