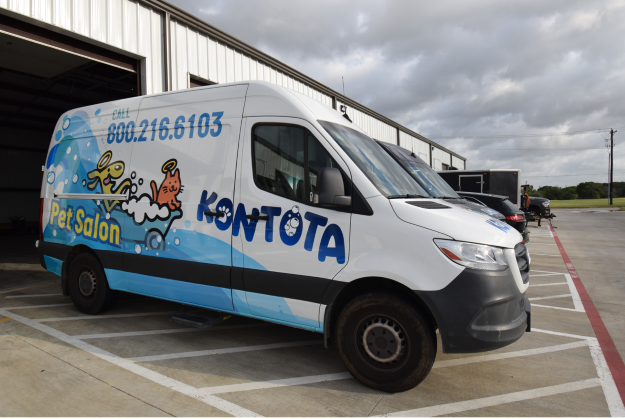 Mobile Dog Grooming Grey Forest TX
Thinking about finding a new pet groomer who will provide mobile dog grooming services? At Kontota, we hold ourselves to the highest standards for mobile dog grooming. Building a relationship with each customer is important to us, and we make sure that every dog feels valued like family.
Setting the Record for 5-Star Excellence in Grey Forest TX
Dogs really are a part of the family. At Kontota, we value dogs like human beings.
In the tranquil enclave of Grey Forest, TX, our mobile grooming service caters to the unique needs of your pets, providing a serene and personalized grooming experience amidst the natural beauty of this picturesque community.
Have you heard enough about our services and are ready for a price?
Are you curious about our prices? Our team is ready to discuss your dog's unique needs and provide you with a quote that works for you.
Mobile Grooming in Grey Forest TX
Going mobile is a no-brainer! Driving your dog to a salon can take a long time and takes time away from other things you love to do. We give you back your time by driving to you. Mobile grooming vans have equipment just like traditional salons, so that we can provide a full-service grooming experience right at your doorstep.  Dogs love the fact that they do not have to sit in the cage to wait their turn. Since they are the center of attention, they feel valued and adored. Additionally, caging dogs increases their stress level. Kontota vans do not contain any cages, so the dogs do not have to experience that stress.  Why wait? Try mobile grooming today!
When Kontota was founded, safety immediately came forth as the primary core value for our company. When we make hiring choices and implement new procedures, we always consider safety first. Part of our daily routine is discussing safety with our staff. Also, safety training is implemented across all departments. Driving safety in our communities, safe animal handling, and employee safety are all very important to us.
Kontota vans are top-of-the-line. We have a 60-gallon water tank located in the back of the van. This water tank is refilled every day. Having freshwater for each dog ensures that the bath is very clean and effective. Temperature control is a priority in the vans. Cold winters and hot summers don't affect the interior of the van. There is a large air conditioning unit in each van as well as a heater and water heater. The bath water is warmed up by our water heater. Traditional equipment, such as a vacuum and the dryer are all contained in the van. Our battery-based system operates independently of your home, so we do not need to plug in our van when we arrive.
When you speak to our team, you can feel that they have a positive and patient attitude towards customers. Listening and caring are very important to our staff. Getting to know each customer and their family's needs is a priority. If you would like to speak to us on the phone, feel free to call us any day of the week. We even answer on Sundays! Also, there is an online booking platform on our website where you can book your own appointment at any time. When customers book an appointment, we send them a URL where they can see their dog's appointment information and other really useful information.
Alamo Ranch TX; Helotes TX; Fair Oaks TX; Boerne TX; Leon Springs TX; Grey Forest TX; Shavano TX; Timberwood Park
Are you ready to improve your dogs health and happiness?
You have learned about our core values, the benefits and advantages of mobile pet grooming, and much more information about us! We can't wait to get to know you better. When you request an appointment online, our team will reach out to you directly and provide you with a price that satisfies you.