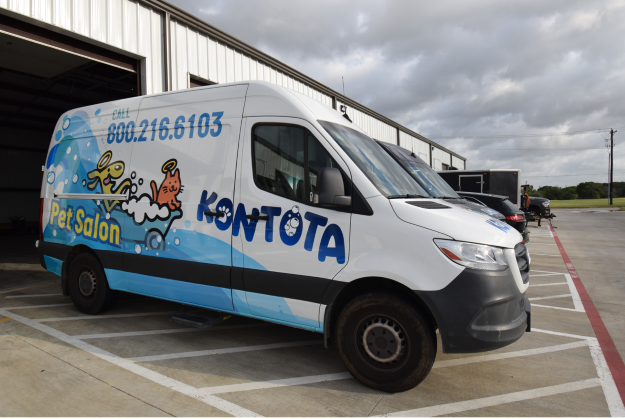 Mobile Dog Grooming Boerne TX
Have you been looking for a mobile dog grooming service in Boerne that will come to you? Our mobile groomers are so excited to get to know your dog. At Kontota, we are all about building relationships and treating dogs like family.
Setting the Record for 5-Star Excellence in Boerne TX
In Boerne, TX, our mobile grooming service combines the charm of small-town living with the sophistication of personalized pet care, offering a convenient and stress-free grooming experience for your beloved pets.
Dogs are treated like family when they interact with Kontota. We understand that dogs are just like humans and an important part of your family.
Are you interested in learning more about our prices?
When do you go to book online, our team will reach out to you with a price. Don't hesitate to request a quote from our friendly staff.
Mobile Grooming in Boerne TX
Driving your dog to a salon is a nuisance. Nowadays, everyone is very busy. We have so much going on at home and do not have the time to drive our dogs into a salon. Furthermore, customers are more sensitive to their dog's emotional well-being and internal experience. Knowing that your dog is sitting in a salon cage all day long gives you anxiety. Thankfully, mobile pet grooming does not involve any cages nor cage-drying. You also don't need to drive your dog to a salon. The mobile salon comes to your doorstep. Our professional team will show up at your house and perform a full-service haircut, bath, and any other grooming services that are needed. This entire experience is one-on-one so that your dog gets the specialized care that they deserve.
When Kontota was established, our number one core value emerged right away. Safety is more important to us than anything else. When we select our team members, we always ask them targeted questions to reveal their safety mindedness. We also incorporate safety into every one of our training courses. Our routine is to discuss safety daily with our team members.
Mobile pet grooming vans have very sophisticated equipment. There is a dryer, including a fluff dryer, and a force dryer. We also have a vacuum that cleans the van of hair. Additionally, the temperature in the van is controlled by an air conditioning unit and a salon space heater. We also have a water heater that warms up the bathwater. 60 gallons of freshwater are contained in the back of the van and refilled every day. Each dog gets a warm and clean bath. Our battery-based system does not need to be plugged into your house. Our power system is completely independent of your home.
Building that strong relationship is a priority for our team. When you call us, we listen to everything that you have to say about your dog. We take notes and we deliver on your needs. Every day, our phone lines are available. We are even open on Sundays. If you need to reach us after hours, don't worry! We have an online booking platform where you can book online. What's more, we provide you with a unique URL when you book an appointment to access your customer's pet portal. Each pet portal is unique and displays valuable information about your dog's appointment.
Alamo Ranch TX; Helotes TX; Fair Oaks TX; Boerne TX; Leon Springs TX; Grey Forest TX; Shavano TX; Timberwood Park
Are you ready to improve your dogs health and happiness?
Now that you've learned all about what we stand for at Kontota, it's clear that the right decision would be to book an appointment with us. Find out more information about prices by entering our online booking platform. If you have not used us before, your appointment will not be confirmed until a customer service representative provides you with a quote and you feel great about the price.