Mobile Dog Grooming in Jacksonville, AL
Kontota provides quick and convenient mobile pet grooming services so your pet spends less time at the groomer's and more time with you!
Setting the Record for 5-Star Excellence in the USA
Are you searching for great pet groomers in Jacksonville, AL? As a pet parent, you only want the best for your furry friends.
If you are tired of the hassle of taking your pets to a brick and mortar salon, then mobile dog grooming may be the answer to your problem. Traditional salons can waste your precious time during drop off, pick up, and waiting in between. That's why mobile pet groomers have started to become more popular.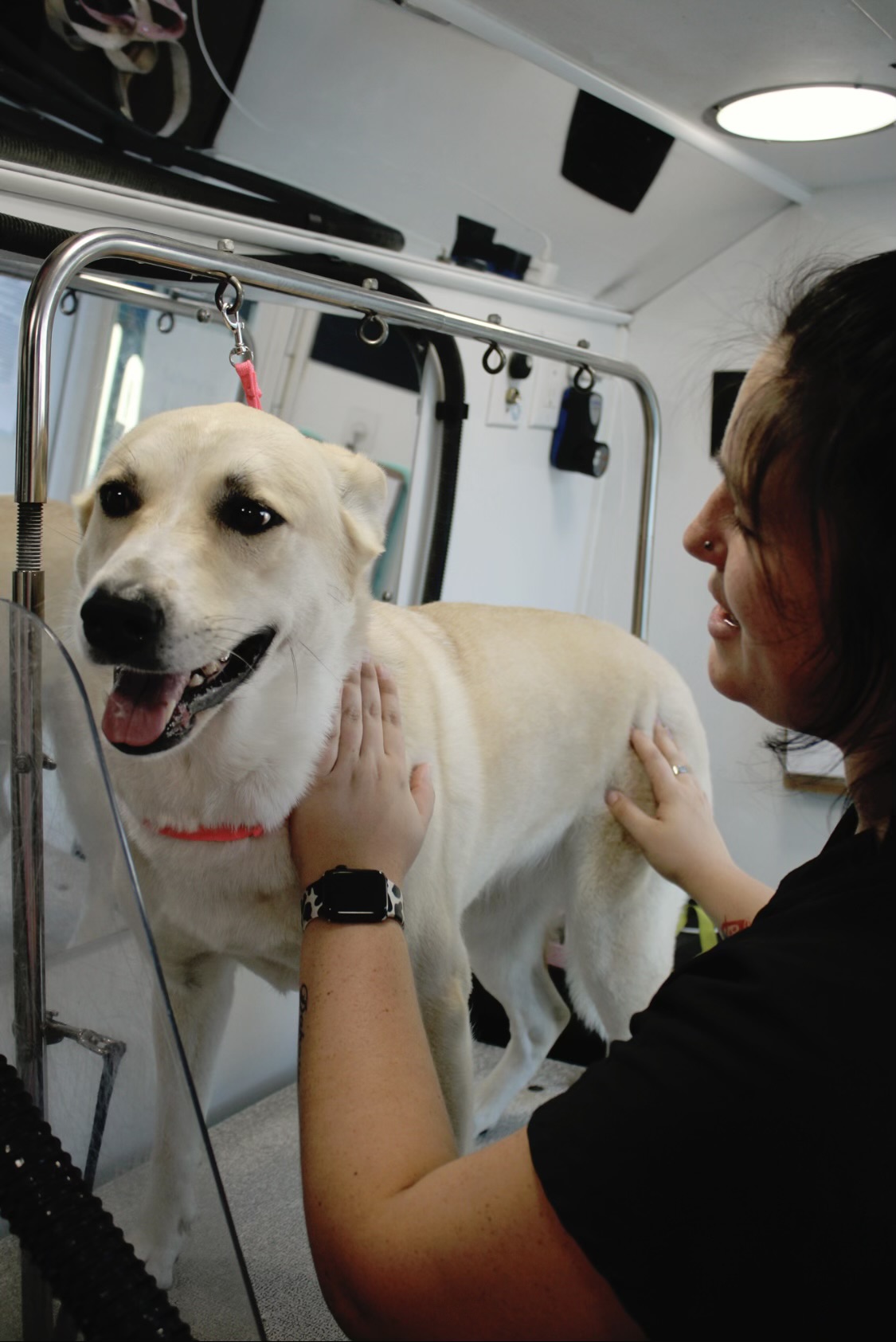 Mobile Grooming In Jacksonville, AL
Mobile grooming is a form of dog grooming in Jacksonville, AL that provides more convenience to the customer and usually takes place in a van or other kind of vehicle that has been outfitted to provide a full grooming experience.
Most often, the mobile groomer will park their vehicle in front of or on the side of your house, apartment complex, or other residence and the entire appointment will take place inside the van.
More convenient – Mobile grooming provides more convenience because the customer doesn't have to waste time taking their pets to and from the salon.
Less stress – Mobile grooming is typically less stressful because there aren't other pets or groomers present during the appointment. 
Better communication – Having a mobile grooming appointment makes it easier to communicate with your groomer about your expectations and preferences because they are right outside your home!
Mobile dog grooming is a better option for people who are busy with work or family commitments that need help when it comes to making time to have their pets groomed.
If you're new to the concept of a mobile groomer, let's walk through how a typical appointment would go:
Contact the groomer for information – The first step is always contacting a local groomer to find out about the services they offer, their prices, and their availability.
Schedule an appointment – Once you know more about what to expect, you can set up a time for an appointment.
Day of the appointment – On the appointment date, your groomer will contact you with an estimated arrival time so you can prepare your pets beforehand.
Groomer arrival – When the groomer arrives, they will want to have a discussion with you about what you expect from the grooming and any important information they should know about your dog. This also allows time for your pup to get more comfortable with the stranger's presence before heading to the van.
Inside the van – Once your dog and the groomer are comfortable, they will take your dog inside the mobile pet salon and start the appointment.
While the appointment is taking place – During the grooming, you will be able to check with the groomer to see how your dog is doing, and they will also send updates. Some companies allow customers to leave their house during this time if they will be back before the appointment is finished.
Appointment is done – Once the groomer is done with the actual grooming process, they will return your dog to you and collect the payment. Some businesses will have online payment options available.
Overall, the process for a mobile grooming appointment isn't much different, but it is definitely more convenient and comfortable for you and your pets.
Along with dog bathing in Jacksonville, AL, our services include: nail trimming and filing, ear cleaning, ear hair removal, teeth brushing, triple wash with shampoo and conditioner, blow drying, full haircuts, sanitary, face, and paw trimming, feathering and outline trimming, de-shedding, and anal gland expression.
Ultimately, mobile dog grooming offers a practical choice for busy people who are looking to save time, ensure their pets' well-being, and build a lasting relationship with a groomer they can trust.
Moody; Leeds; Trussville; Pell City; Riverside; Lincoln; Springville;  Hoover; Mountain Brook; Vestavia Hills; Irondale; Oxford; Anniston; Jacksonville; Gadsden; Ashville; Alexandria; Rainbow City; Southside; Anniston
Email : nealabama@kontota.com
Want the best for your fur baby?
Provide your furry friend the pampering they deserve with our services! Book an appointment now to treat your pet to a a fabulous spa day. Your pet will be in the best hands, and you'll love the convenience. Schedule your pet's mobile grooming session today!