Mobile Dog Grooming in Anniston, AL
Kontota provides quick and convenient mobile pet grooming services so your pet spends less time at the groomer's and more time with you!
Setting the Record for 5-Star Excellence in the USA
Calling all pet parents living in the Anniston area of Alabama! Are you looking for mobile dog grooming for your fur baby? Look no further! Dog grooming in Anniston AL is our specialty.
Pet parents in Anniston select Kontota as their number one choice based on convenience, quality, and care. About 42% of owners in Anniston's general area have at least one dog.  Conclusively, there are thousands of dogs that need their nails done, a great wash, and perhaps a haircut or shedding treatment.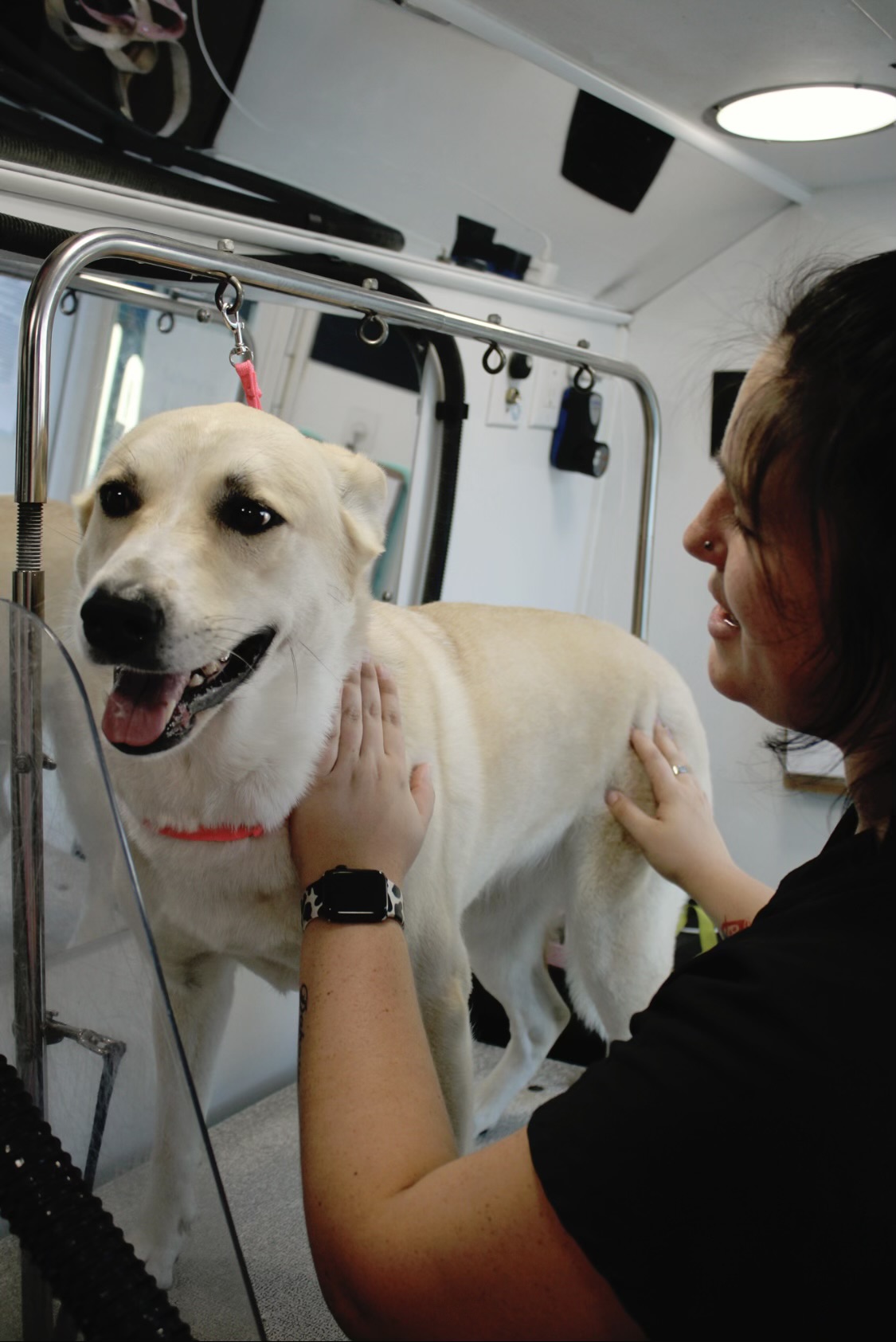 Mobile Grooming In Anniston, AL
Mobile dog grooming in Anniston Al involves a van, fully converted to a traveling salon.  The groomer drives to your house, your dog hops inside the van, and an hour or two later, they emerge fully groomed and cleaned up!  How would that feel to see your dog fully groomed in a traveling salon outside your home?  It is convenient for you and takes a huge load off your shoulders.  However, the benefits don't stop there.  Here are some of the main advantages of hiring Kontota to come to your home.
Have you ever felt like your dog was treated more like an object than a living, breathing subject when going to a groomer?  How does it feel seeing your dog shoved into a cage for more than half the day, held down against their will on the grooming table, and then exiting the grooming salon with their tail between their legs?  Doesn't it make you sad seeing your dog feeling this way?  Mobile grooming will end this inhumane practice once and for all.  Kontota does not engage in these practices and ensures the safety and emotional health of your dog throughout the entire grooming and bathing process.
Your dog deserves the specialized attention that only Kontota's mobile grooming can offer.  Kontota pet groomers in Anniston Al spend the extra time needed to get to know your dog, so they can adjust their approach to each pup.  Dogs are never caged nor left unattended in mobile grooming vans.  They are also dried using a manual, blow dryer rather than a cage dryer, which is safer because the groomer can watch the dog's reactions to the dryer and adjust the speed to accommodate that dog's needs.
Have you noticed drooling, crying, pacing back and forth, lip licking, or tiredness in your dog during or after driving them to the groomer?  According to the VCA Animal Hospitals, these signs are all indicators of car sickness.  Preventing car sickness in your dog is a primary advantage when you hire us to come to your home.
According to The Guardian, dogs that are caged can experience heightened levels of depression and anxiety.  Imagine you were confined in a cage; how would you feel?  It isn't hard to imagine that caging dogs can negatively impact their mental and emotional well-being.  Thankfully, Kontota dog bathing in Anniston Al doesn't involve any cages, so you can prevent your dog from experiencing these painful side effects of the brick-and-mortar salon model.
Kontota is the number one option for pet grooming services in Anniston Al since we have a 27-step process that ensures customer satisfaction.  Our number one core value is safety, and our safety policies are top of the line.  Knowing that we value the safety of your dog above all, you can be confident in our professional groomers.  Inquire online for a quote or call our customer service to learn more about our availability!  We are sure to find a convenient time for you and your fur baby.  You won't regret scheduling your dog's mobile groom with Kontota.
Moody; Leeds; Trussville; Pell City; Riverside; Lincoln; Springville;  Hoover; Mountain Brook; Vestavia Hills; Irondale; Oxford; Anniston; Jacksonville; Gadsden; Ashville; Alexandria; Rainbow City; Southside; Anniston
Email : nealabama@kontota.com
Want the best for your fur baby?
Provide your furry friend the pampering they deserve with our services! Book an appointment now to treat your pet to a a fabulous spa day. Your pet will be in the best hands, and you'll love the convenience. Schedule your pet's mobile grooming session today!