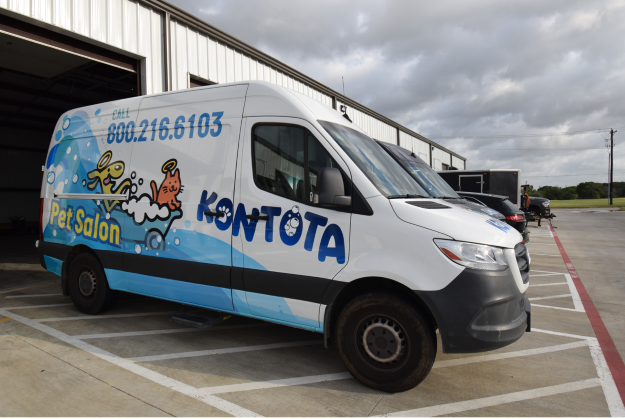 Mobile Dog Grooming Lincoln AL
Are you looking for a mobile dog grooming service that is reliable and consistent? You have come to the right place! Kontota mobile grooming is the most highly rated grooming service in the country.
Setting the Record for 5-Star Excellence in Lincoln AL
Indulge your furry friend in the charm of Lincoln, AL, with our mobile dog grooming services, offering a blend of convenience and expertise that brings professional care right to your doorstep.
Our dedicated team ensures your pet's comfort and well-being, delivering a stress-free grooming experience in the heart of Lincoln. Elevate your pet care routine with our personalized services, making each grooming session a delightful treat for your beloved companion.
Ready to book an appointment?
Are you ready to have a Kontota groomer come to your house? Are you finished dealing with drop off and pick up hassles? We are so excited to service you! Go ahead and contact our customer service team to book an appointment.
Mobile Grooming in Lincoln AL
Mobile pet grooming is ideal because it is much more convenient and comfortable for both dogs and pet parents. Normally, customers need to drive their dogs to a salon for them to get groomed. Salons are very chaotic and noisy. Traditional salons also have cages and cage-drying methods. Cage drying can be extremely threatening and emotionally harmful to dogs. It can also become dangerous in certain circumstances. At Kontota, we do NOT cage dry any dogs. We have a manual blow dryer that we use to fully dry the dogs. They will be 100% dry without any cage drying. Additionally, since we are coming to your home, we save you money on gas, and we save you time as well. Getting more time with your family is important and will make a big difference in your life. Choosing mobile pet grooming is a no-brainer.
Isn't it comforting knowing that our groomers are thoroughly trained in safety protocols? Finding a groomer that you can trust is a huge weight off your back. We provide safe and friendly service. Our groomers are thoroughly trained in safe handling techniques. We also cover safe driving methods to protect our communities from harm.
The equipment in our mobile grooming vans is designed based on our partners expertise of 30 years. They have created a safe and efficient grooming environment. The dogs will be thoroughly dried with our manual blow dryer. We also have a vacuum and other cleaning supplies in our vans. Additionally, we have temperature control equipment. Vans have a water heater that ensures that each dog gets a warm, relaxing bath. Also, we have an air conditioning and heater to regulate the temperature within the salon space.
Having great customer service is something that we take immense pride in. We provide a service to our customers at any hour of the day on our online booking platform. Furthermore, you will receive a customized link to view your pet's portal when you book an appointment. Also, our friendly team is available to answer any questions by phone on any day of the week.
Moody; Leeds; Trussville; Pell City; Riverside; Lincoln; Springville;  Hoover; Mountain Brook; Vestavia Hills; Irondale; Oxford; Anniston; Jacksonville; Gadsden; Ashville; Alexandria; Rainbow City; Southside; Anniston
Email : nealabama@kontota.com
Convinced that Kontota is right for your pet?
We can't wait to come to your home and start to build a relationship with your dog. Our passion is taking care of dogs and their emotional and physical health. Let's get started and book an appointment online.