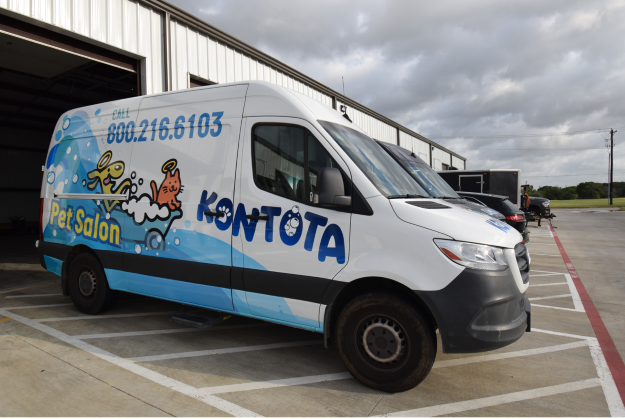 Mobile Dog Grooming Carrollton TX
Looking for mobile dog grooming in Carrollton TX? Welcome to Kontota, where we recognize that your furry friend is an integral part of your family. Ensuring their happiness and comfort during the grooming experience is our top priority. While finding the right groomer may be a challenge, we've made it simple and stress-free for you.
Setting the Record for 5-Star Excellence in Carrollton TX
In Carrollton, TX, our mobile grooming service transforms the ordinary into the extraordinary, bringing a spa-like indulgence to your pet's grooming experience without leaving the comfort of home.
Elevate your pet's grooming routine in Carrollton, TX, with the convenience and luxury of our mobile grooming, ensuring a stress-free and tailored pampering session just outside your door.
Is your pup ready for a salon quality groom?

Experience the epitome of pet pampering with our mobile grooming services in Carrollton, TX, where your furry companion receives VIP treatment right at your doorstep.
Mobile Grooming in Carrollton TX
Opting for mobile grooming with Kontota offers a more comfortable alternative to traditional brick-and-mortar salons. Our groomers drive to your location, allowing for a stress-free grooming experience in the convenience of your driveway. The absence of cages and a quieter environment contributes to the emotional well-being of your dog, making the grooming process more enjoyable for them.
Safety is a cornerstone of our service. We prioritize it during employee orientation, conduct regular safety meetings, and encourage our team to make the safest choices. Your trust in us to care for your fur baby is of utmost importance, and we take every measure to ensure a secure and comfortable experience.
Our mobile grooming vans are equipped with top-notch facilities designed for comfort and health. From fresh water and air conditioning to heaters, vacuums, and dryers, we've thought of everything to provide an efficient and enjoyable grooming experience for your dog.
For your convenience, our customer service is available seven days a week. We understand the importance of prompt responses, and our pet portal, accessible online at any time, along with our user-friendly online booking platform, makes scheduling and communication easy and efficient.
Denton; Corinth; Highland Village; Lake Dallas; Hickory Creek; Shady Shores; Lantana; Lewisville; Flower Mound; Coppell; Hebron; The Colony; Carrollton
Are you ready to improve your dogs health and happiness?
In conclusion, at Kontota, we prioritize safety and comfort to provide the best grooming experience for your furry family member. We are here for you and can't wait to serve you and your beloved pet!