Mobile Dog Grooming in Gadsden Al
Kontota provides quick and convenient mobile pet grooming services so your pet spends less time at the groomer's and more time with you!
Setting the Record for 5-Star Excellence in the USA
If you are considering mobile dog grooming in Gadsden Al, you came to the right place.  We are on your side, as well as your fur baby and want to make sure you find the best service for your pup. 
Kontota pet groomers in Gadsden Al come to your house and groom your dog in their fully equipped grooming van.  Virtually all customers prefer mobile grooming over the traditional style of salons. Salons are hectic and demand that the dog spends much of the day in a cage.  The emotional impact of caging dogs is a major factor in their decision to hire Kontota.  Kontota services are reliable, safe, and friendly, ranking number one in Gadsden Al.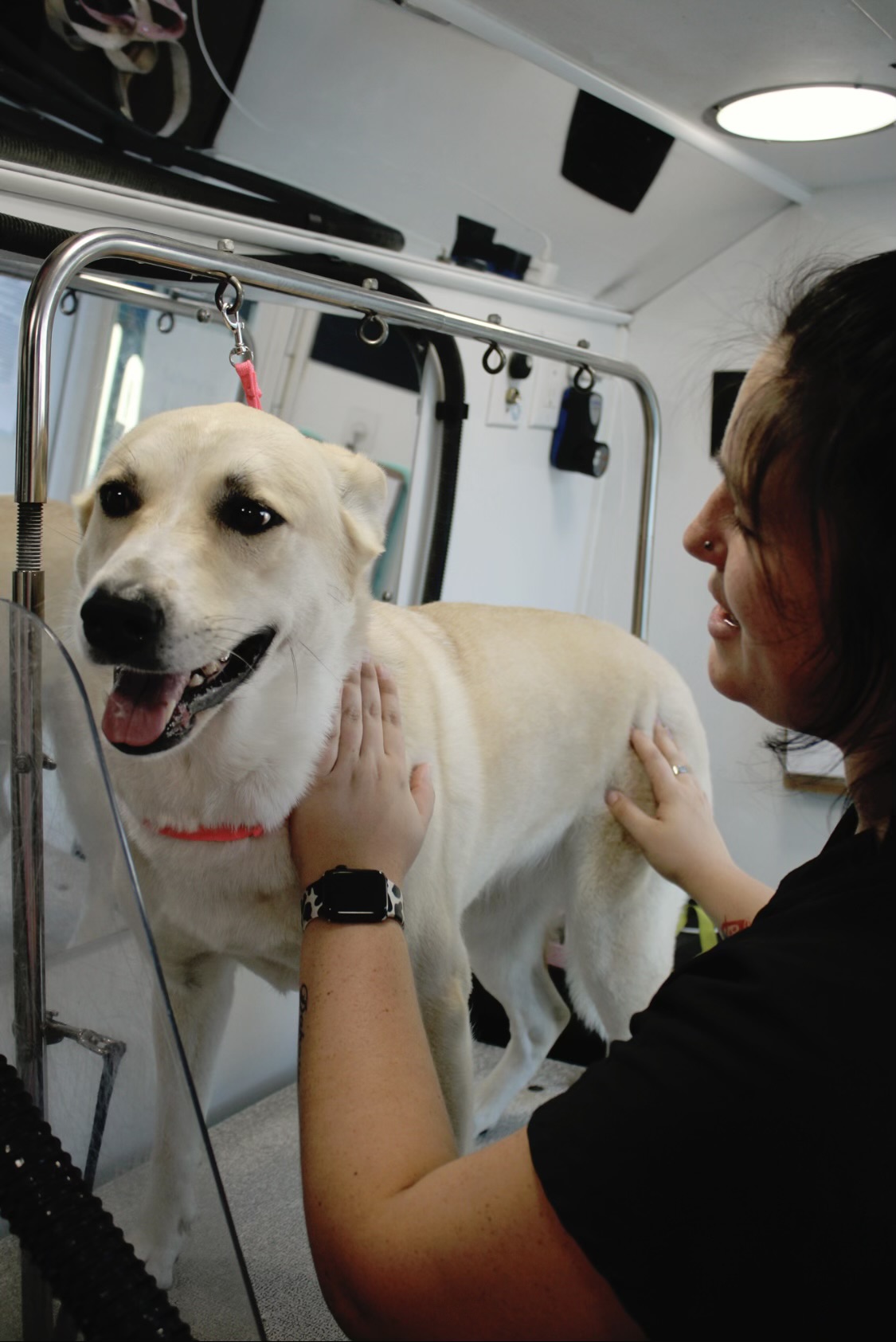 Mobile Grooming In Gadsden Al
Kontota mobile grooming vans contain fresh water, air conditioning, heat, and a water heater.  A bath and a grooming table are present, as well as a vacuum and one or two dryers.  They also contain a hydromassage system for your pet's enjoyment and a clipper vacuum to ensure cleanliness and efficiency.  Mobile grooming vans are safer for dogs because the drying process is hand performed by a groomer who monitors the dogs' reactions to the dryer.  They can stop the process if the dog is reactive to the dryer, or they can lower the settings to improve comfort.  Additionally, grooming in a van is secluded from other dogs, which lowers the overall anxiety of the dogs. Kontota is the safest and highest quality option for dog bathing in Gadsden Al.
Kontota grooming vans are easier to keep clean since they have fewer dogs circulating through the environment.  Kontota groomers are required to sanitize all tools, the table, and everything else that encounters the dogs between appointments.  These policies give pet parents piece of mind when they hand off their dogs to a mobile groomer.
Mobile groomers understand customers' need for convenience.  Customers have busy lives and often struggle to find free time to take their dog to a salon.  Gaining time, customers are happy to receive their dog fully groomed from the grooming van without having to make the trip to the groomer.  They also enjoy having the groomer accessible and right outside their door if they must run to the store or take a quick outing while their dog is being groomed.
The main reason why customers say that they choose Kontota pet grooming services in Gadsden Al is due to the increased happiness of their dog throughout the whole process and afterwards. Many customers have reported their dog was unhappy and crying after their previous grooming appointments at brick-and-mortar salons.  This misery was due to the caging, chaos, and handling by the groomers in salons.  Kontota dog grooming in Gadsden Al leaves dogs feeling energized and playful.  They are treated like a member of the family.
Moody; Leeds; Trussville; Pell City; Riverside; Lincoln; Springville;  Hoover; Mountain Brook; Vestavia Hills; Irondale; Oxford; Anniston; Jacksonville; Gadsden; Ashville; Alexandria; Rainbow City; Southside
Email : nealabama@kontota.com
Want the best for your fur baby?
Provide your furry friend the pampering they deserve with our services! Book an appointment now to treat your pet to a a fabulous spa day. Your pet will be in the best hands, and you'll love the convenience. Schedule your pet's mobile grooming session today!